Gilbert Store Hours:
| | |
| --- | --- |
| Monday-Thursday | 10 a.m. - 8 p.m. |
| Friday | 10 a.m. - 7 p.m. |
| Saturday | 10 a.m. - 6 p.m. |
| Sunday | 11 a.m. - 5 p.m. |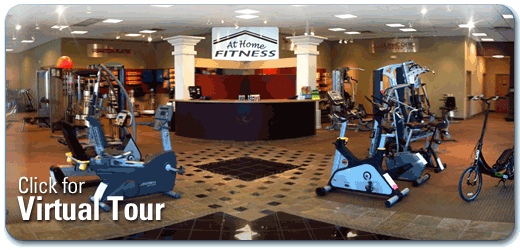 For quality fitness equipment such as treadmills, elliptical machines, exercise bikes, functional trainers and much more, the At Home Fitness Gilbert location is a great place to shop for people who live in cities such as Mesa, Apache Junction, Gold Canyon, Queen Creek, Chandler and Gilbert, to name a few.
At Home Fitness Gilbert is the place to go in that area to buy the best exercise equipment with the best reviews and treadmills with the best reviews in Arizona.At Home Fitness Gilbert is located at 2810 S. Market St.
Gilbert, AZ 85295
Just off of the 202 & San Tan Valley interchange and next to Creative Leather.
For the best fitness machines and other equipment in the East Valley or Phoenix, At Home Fitness Gilbert is the ONLY specialty fitness store of its kind to serve consumers.
A commitment to quality, value and customer service has helped At Home Fitness continues to grow and take the lead for best specialty fitness equipment in Arizona.
At Home Fitness sales associates know the fitness business inside and out, are dedicated to staying fit themselves and constantly learning about fitness equipment.
Whether itís advising people in deciding between investing in a treadmill or elliptical machine, upright bike or†a recumbent bike, or home gym or functional trainer, At Home Fitness can help you make those types of fitness decisions and stay within your budget.
Store hours are Monday-Thursday are 10 a.m. - 8 p.m.; Friday 10 a.m.-7 p.m.;† Saturday 10 a.m.-6 p.m.; and Sunday 11 a.m.-5 p.m. Call 480-940-1022 for more information.