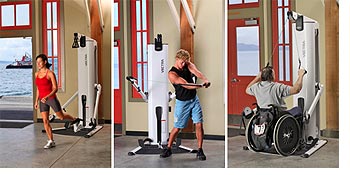 Hitting, lifting, throwing, kicking, twisting, jumping, bending, reaching, pulling…it could be happening on an athletic field or in the laundry room with a basketful of shirts and socks. Life IS movement, whether it's in sports, work, or the normal chores of the average day. And if you think about it, almost all physical activity originates with the "core" or muscles of the midsection. These are the muscle groups that provide the strength, stability, and velocity to the arms and legs. Therefore, "functional training" goes hand-in-hand with "core training."
Be Your Best
We at Vectra feel confident that we have developed the machine that will best help you reach your desired level of fitness. Vectra quality Vectra craftsmanship, Vectra beauty, Vectra superiority in engineering…all have gone into the VFT-100. As in our broad line of weight machines, everything fits, works smoothly, and is biomechanically correct…to help you reach your goals.
"V" for Versatility
The true measure of a functional trainer is versatility, and versatility can be measured in…how many exercises can be performed, how many cable angles can be created, how many possible pulley positions there are and how much cable travel is available. More pulley positions means you'll be able to select the precise angle required for your exercise, whether you are training for a specific sport or task or simply focusing your efforts towards maximum conditioning of your core muscle groups.This remarkable training device has a combination of pulleys matched by no other.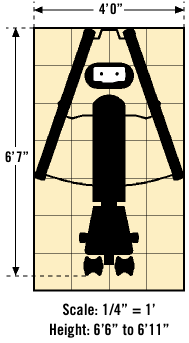 The wide pulleys adjust from just off the floor to about six feet high, with 23 possible positions (see adjacent diagram). The pulleys themselves are counter-balanced and swivel, ever-so-smoothly, a full 540 degrees, perfect for sports specific training. This swiveling is vastly superior to the common "V-groove" pulleys found on lesser machines. The swiveling dual high pulleys are as close together as possible, allowing for a larger range of motion. These pulleys can be set at from 6'6" high to 6'11" high at the time of installation. This allows the machine to be customized to fit the room and/or primary users. The low central pulley is perfectly positioned for seated low rows, back extensions, abdominal reverse curls, etc., and with the bench is ideal for leg extensions and curls. In addition, the VFT-100 was designed to be used with the bench, a fitness ball, as well as by itself. Almost any bench exercise can be performed on a ball.
To guide you through the multitude of exercise possibilities available on the VFT-100, every machine comes with TWO large detailed exercise posters. The first poster emphasizes the more traditional exercises and introduces unstable environment (fitness ball) options for many of them. The second poster deals with Advanced Functional Training and Sports Related Training and emphasizes multi-plane resistance training.
Thoughtfully Designed
The VFT-100 not only occupies a small amount of space, but all adjustments, including changing the weight, are in front, so you can put it close to a wall. And changing attachments is extremely quick and easy — no time wasted between exercises, thanks to intelligently designed connectors.
From a 15 degree decline to a shoulder press position, the VFT bench features 7 different training angles. Sturdy wheels make positioning easy and automatic locking mechanism keeps the bench securely in place. Since this bench doubles as the perfect place for dumbell work, optional 5 and 8 pair dumbell racks are available to store your dumbells within easy reach.