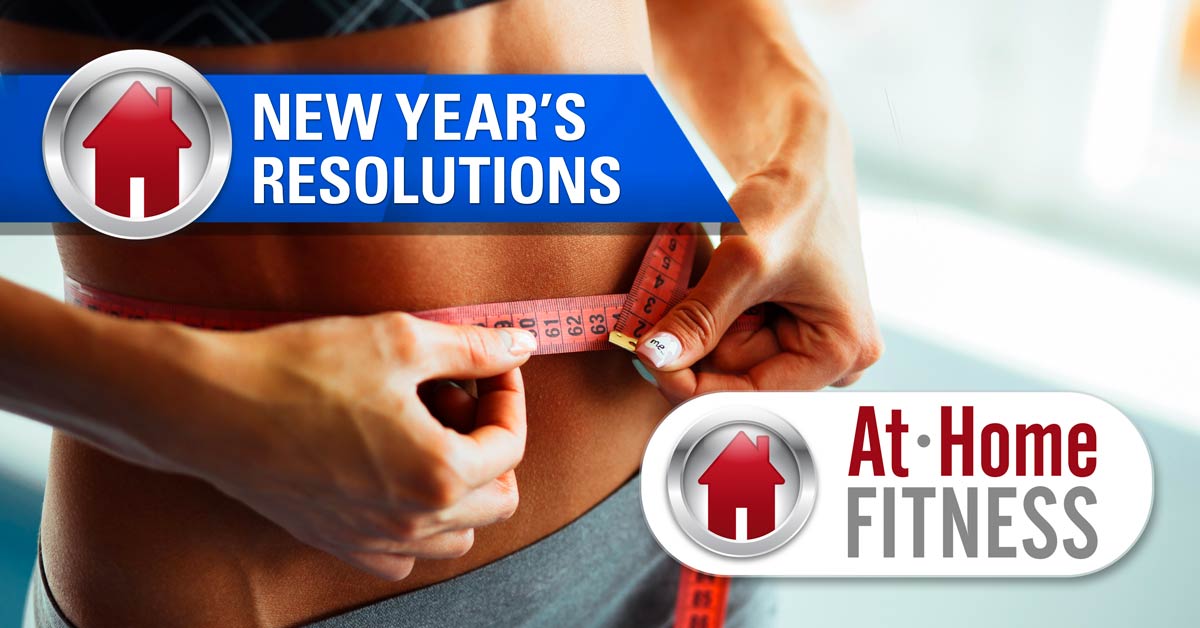 At Home Fitness is here to help with your 2021 New Year's Resolutions
Lots of people make some type of New Year's Resolution, but numerous studies over the years have shown that 20 percent or fewer actually keep those promises to themselves.
One of the most popular New Year's resolutions is to practice a healthier lifestyle, whether it's "get fit," or "eat better," or some other combination of specific goals.
At Home Fitness is here to help you get fit, both in its Arizona superstores and online support for www.athomefitness.com.
Whether you want the newest and best models, or certified used fitness equipment, At Home Fitness has Arizona home fitness superstores conveniently located in Scottsdale, Ahwatukee and Gilbert.
Store Locator
They sell award-winning brands such as 3G Cardio, Bladez Fitness, Body Solid, Bodycraft, Bodyguard, BH Fitness, Cybex, Dr. Hoys, ElliptiGO, GoFit, Inspire Fitness; Landice, Life Fitness, LifeCore Fitness, Nexersys, Nautilus, Octane Fitness, Power Plate, PowerBlock, Spri, Stairmaster, Torque Fitness, VectraFitness.
At Home Fitness has treadmills, exercise bikes, elliptical machines, home gyms, vibration training machines and more, offering customers the best deals on exercise equipment in Arizona at its home fitness superstores and online at www.athomefitness.com.
EXERCISE IN A HOME GYM
Working out in a home gym is a great way to stay fit because you can exercise whenever and however you want to.
It's never been more popular to set up a home gym than now due to the COVID-19 pandemic concerns.
Stop into one of At Home Fitness' superstores in Arizona and talk to a highly trained sales associate to find out which equipment would be best for you.
The superstores offers Arizona's best inventory, extremely competitive rates and the best service department around.
SERVICE DEPARTMENT
It doesn't matter if you bought your exercise equipment from At Home Fitness, or somewhere else, the AHF service team can make sure your machine is running at optimum performance level.
AHF services most brands of personal and commercial equipment. For service or repairs on treadmills, elliptical machines, exercise bikes, home gyms or other fitness equipment, contact At Home Fitness.
Visit our Service Department »
SPECIAL PRECAUTIONS
As Arizona's specialty fitness leader for nearly two decades, At Home Fitness goes above and beyond to be safe. They are taking special precautions in all their stores, including extra cleaning and sanitizing of all equipment, door handles, counters, etc.
If you are unable to visit a store, they will be more than happy to help you select a piece of equipment over the phone. At Home Fitness can still deliver and install equipment.
BONUS TIPS
Here are some additional suggestions to achieve your New Year's Resolution:
WRITE IT DOWN – Write down your goals and your plan to achieve them. For exercise, keep a workout log.
If you have a major goal, such as "start a business," you'll have more success if you plot out the many factors it takes to make it a reality. 
And, be specific. Lots of people fail because they make resolutions that are too general, or too difficult to measure. Examples include "get healthy" or "spend more time with my spouse." Instead, vow to "Walk an extra 20 minutes every day" or "Schedule a weekly date night with my spouse."
MAKE IT PUBLIC – Some people feel that they're more likely to keep a New Year's resolution when they tell others, whether it be in person or on social media. Of course, it's also fine to keep it private if you prefer.
INCLUDE A FRIEND – A friend who shares your New Year's resolutions can provide a huge dose of motivation.
CHOOSE TANGIBLE GOALS – There's nothing wrong with making less ambitious, but more achievable goals, such as running a 5K (instead of a marathon) or organizing your out-of-control closet (instead of renovating the whole house).
AVOID PAST FAILURES – Don't set resolutions that you've made in the past and always seem to fail – unless of course you really believe this is the year.
And if you do try to repeat a resolution that's failed in the past, try altering it some.
GIVE IT TWO WEEKS – Most resolutions are lost before January is even a few weeks old. The most crucial time to keeping a resolution is the first two weeks, so be tough on yourself the first two weeks even if it's really hard.
If you can get through those two weeks you're obviously still not home free, but it will be a lot easier.
Call one of At Home Fitness' superstore locations or stop in for more information:
Ahwatukee Fitness Equipment Superstore
14647 So. 50th St. located near Ahwatukee, Phoenix, Chandler, Tempe and it's the chain's closest store to Tucson.
Visit Ahwatukee
Gilbert Fitness Equipment Superstore
2810 S. Market St., located near Mesa, Apache Junction, Gold Canyon, Queen Creek, Chandler and Gilbert, to name a few.
Visit Gilbert
Scottsdale Fitness Equipment Superstore
6969 E. Shea Blvd. located near Scottsdale, Fountain Hills, Cave Creek, Anthem and many other locations in the West Valley.
Visit Scottsdale
For Commercial Sales call 888-351-6951, the Service Department can be reached at 480-940-1022 or email Support@AtHomeFitness.com.