AHF service director Hagge: 'We always try to do it right'
A personal touch and dedication unmatched in Arizona makes At Home Fitness the state's leader for not only retail sales in specialty fitness equipment, but also exercise equipment service and repair.
Talk to At Home Fitness service director Heath Hagge, who will soon mark his seventh year working for the company and 10th in the fitness industry, and you'll quickly learn the over-the-top emphasis he puts on customer satisfaction.
"The advantage I think that separates us from other exercise equipment repair companies is we take great pride in taking care of the customer," Hagge said. "We go out of our way to make the customers happy."
If you live in Phoenix, Arizona, or just about anywhere else in Arizona and need your fitness equipment serviced or repaired, At Home Fitness can get the job done.
At Home Fitness also does tune-ups and repairs on other equipment, such as elliptical machines, exercise bikes, home gyms and more and will work on most major brands.
Whether you bought your fitness equipment from At Home Fitness or somewhere else, a member of AHF's highly trained service staff is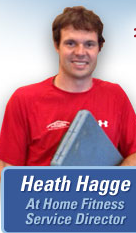 available to fix your exercise equipment in the convenience of your own home or at your facility. Trained fitness equipment service technicians provide quality and convenience with their in-home or on-site service work:
* Ahwatukee- 14647 So. 50th St., Phoenix, AZ 85044 (480-940-1022);
* Desert Ridge Marketplace – 21001 N. Tatum Blvd, Phoenix, 85050
(480-513-1123);
* Gilbert – 2810 S. Market St., Gilbert, AZ 85295 (480-855-6044) and;
* Scottsdale – 6969 E. Shea Blvd, Scottsdale, AZ 85254 (480-951-6951).
At Home Fitness services most major brands of exercise equipment. All of the fitness equipment repair and service is done by At Home Fitness' qualified and expert service team. They can also assist with equipment moves, setups, storage and more.
Hagge stated that it's hard to name a single most common problem At Home Fitness' service team encounters with equipment it's called upon to fix, but often they're asked to simply investigate a weird sound.
"We have seen it all and many times, we are called out for things as simple as preventative maintenance or strange sounds," Hagge said. "We can and do repair just about anything fitness related. Whether a client has a worn out belt and treadmill deck, squeaking noises from an elliptical or anything else, we can repair it."
"That just shows the quality of the equipment we sell. When it gets to the point of fixing it, we're able to fix it and they're able to still have a really good piece of equipment."
"Some of the higher end brands of fitness equipment like Landice and Octane Fitness really don't require preventative maintenance but it can't hurt to be proactive. Depending on the brand, if a person is using their exercise equipment consistently, I'd probably recommend a yearly tune-up," added Hagge, who currently has a special coupon to receive a $119.99 tune-up ($30 savings) with multiple inspections and adjustments on each piece of equipment. "Anyone can call us and ask our recommendations for
service or maintenance. Many times we can help someone over the phone and actually avoid having to come out for service which saves our clients money."
The service department will service or fix equipment at a very reasonable rate and check to see if your equipment is still under warranty, potentially saving customers lots of money who didn't even know new parts were still covered. AHF wants to be a one-stop shop before, during and after the sale when it comes to learning about, buying and maintaining your specialty fitness equipment.
Contact Heath Hagge or another member of the At Home Fitness service department to experience the AHF difference when it comes to service or repairs for specialty fitness equipment in the Phoenix area. The Service Department can be reached at 480-940-1022 or email Support@AtHomeFitness.com.
At Home Fitness consultant Aaron Dorksen's blog deals with a variety of fitness topics, ranging from workout tips, motivational ideas and feature stories on how exercise impacts people's lives. E-mail him with comments, questions or ideas for future blogs at aaron@athomefitness.com