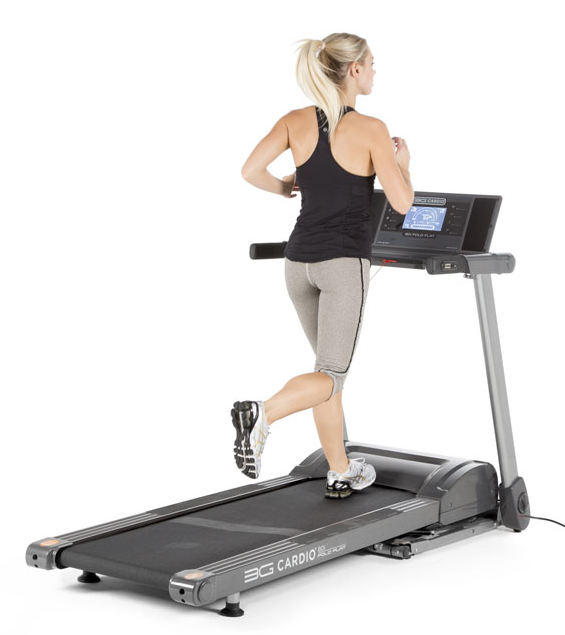 3G Cardio 80i fold flat treadmills continue to gain in popularity
There's a breakthrough in fold-down treadmills that's sweeping the nation. From Amazon.com, to specialty fitness equipment stores across the nation such as At Home Fitness in Arizona, the 3G Cardio 80i Fold Flat Treadmill is opening up new possibilities.
If you are short on space in your home, apartment, office, RV, etc., you can now get a big-time running workout on your own personal treadmill.
The 3G Cardio 80i Fold Flat Treadmill is hands down the best Fold Down Treadmill on the market. It's the only "under the bed tread" that you can easily store and then pull out, unfold and get a quality running workout on.
Users can also fold this treadmill vertically and store it in the corner of a room or closet. Whether you choose to store it on the floor or standing, either way it's easy to quickly convert to use.
Most fold down treadmills don't have the capability to go past 4 mph. The ingenious 3G Cardio 80i fold down treadmill allows users to exercise at speeds ranging anywhere from 0.5 to 11 mph. Additionally, it can be set for a maximum incline of 15 percent.
Other fold down treadmills are built for low-impact walking and will feel slow and flimsy if you try to run on them, but the 3G Cardio 80i treadmill is built for high performance. The 3G Cardio 80i Fold Flat Treadmill can accommodate people who weigh up to 325 pounds.
When you're done using the 3G 80i, it can easily fold down to a height of just 9.75 inches. Roll it under the bed, pool table, etc., for storage. If you prefer it can be folded up and stored vertically in a closet, corner of the room, etc.
The esteemed Fitness Professor called the 3G Cardio 80i Fold Flat Treadmill a 2013 Best Buy winner for Treadmills under $1,500. His review praised the heavy duty 3.0 HP motor and a running surface of nearly 60 inches. It offers the stability of a treadmill nearly twice its size and it will even impress experienced runners.
The 3G Cardio 80i Fold Flat Treadmill also has some of the best "extras" among fold flat treadmills. Speakers are built in that can be hooked up to an iPhone or MP3 player up to. It comes with a great warranty: Frame/Motor Lifetime Warranty, Parts 5 Years Warranty and Labor 1 Year In-Home Labor Warranty.
Best Buy winning 3G Cardio treadmills and vibration training machines are carried by respected dealers all over the country. 3G Cardio products are also available online at www.3GCardio.com.