3G Cardio AVT 3.0 brings vibration training into home at affordable price
The fastest growing area of the specialty fitness market is vibration training.
It's not cheap to own a vibration trainer in your home, though, as these machines routinely cost $4,000, $5,000 or even up to $10,000.
However, people can enjoy all of the benefits of vibration training with the affordably priced 3G Cardio AVT 3.0 Vibration Machine, which comes at an MSRP of $2499. At Home Fitness has this ingenious machine at the sale price of just $2,249.
Vibration training has been touted by everyone from professional athletes and celebrities, to the couple next door and even senior citizens and people battling chronic diseases in some instances.
Why? Because vibration training works.
Vibration machines create instability, which the body senses and reflexively contracts muscle tissue involuntarily to stabilize and react to the stimuli.
As a result, all three types of skeletal muscles are instantaneously called into service because of the near-immediate level of fatigue. No longer is there a "progression of muscle fatigue" as in traditional strength training.
AVT can work up to 95 percent of the muscle fibers, compared to as little as 20 percent with traditional strength training. In significantly less time than using traditional exercise methods, people can get a much better workout.
Many experts state that people can get great benefits from performing AVT training just 30 minutes three times a week.
The 3G Cardio AVT 3.0 Vibration Machine trainer, which is on sale at At Home Fitness for just $1,999, packs a 50 Hertz vibration capability into a smaller frame and lower price point than the well-known 3G Cardio AVT 5.0 Vibration Machine (MSRP $3,999, AHF $3,599) and AVT 6.0 Vibration Machine (MSRP $4,999, AHF $4,499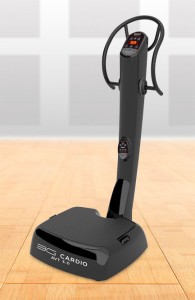 ).
The 3G Cardio AVT 3.0 Vibration Machine has four built-in exercise programs and a powerful motor that allows users to get a complete body workout.
The 50 Hertz motor allows users to train with the strongest vibrations on the market in this price point. The 3G 3.0 machine's vibration platform size of just 24″(width) x 24″(depth) takes up less room than bigger machines on the market to help fit in smaller workout rooms, but still delivers powerful vibrations with which to train..
The 3G Cardio design team stated, "This AVT 3.0 Vibration Machine has been years in the making and development. We wanted to bring a smaller vibration machine to the market that offered the same quality and value of our larger models.
"We're extremely pleased to say that we've been able to do that with the AVT 3.0 Vibration Machine. Normally, people won't find a 50 hertz capability in a vibration machine that sells for under $5,000, but we've been able to do that with this model. The specs are fantastic. It has the same quality as our 5.0 and 6.0 models at a smaller size and lower price."
Quick-touch settings allow users to easily change the time increments to 30, 90 or 180 seconds, and also easily adjust the Hertz settings (how fast the vibration platform moves).
There's also a two years parts, one-year labor warranty. A maximum user capacity of 350 pounds shows how well its built.
At Home Fitness consultant Aaron Dorksen's blog deals with a variety of fitness topics, ranging from workout tips, motivational ideas and feature stories on how exercise impacts people's lives. E-mail him with comments, questions or ideas for future blogs at aaron@athomefitness.com