A six-pack of leap day fitness ideas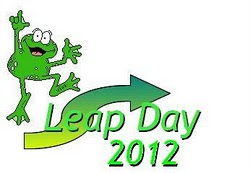 This Wednesday will be no ordinary hump day. It's February 29, 2012, which is a leap day in the Gregorian calendar.
This is a date that occurs in most years that are evenly divisible by 4, such as 2004, 2008, 2012 and 2016.
According to Wikipedia, years that are evenly divisible by 100 do not contain a leap day, with the exception of years that are evenly divisible by 400, which do contain a leap day. Thus 1900 did not contain a leap day while 2000 did.
Years containing a leap day are called leap years. February 29 is the 60th day of the Gregorian calendar in such a year, with 306 days remaining until the end of that year.
Long story short, we get an extra day in 2012!
What are you going to do on this special bonus day?
I suggest working in some extra exercise. Here are six ideas to celebrate Leap Day by getting a little more fit.
1. If you already are on a fitness plan, change up your workout for something a little different Wednesday. Maybe go for a swim, bike ride or yoga class if those are things you don't normally do.
2. Go for a 29-minute walk, or mix in walking and running.
3. Do 29 extra push-ups at the end of your workout.
4. Do 29 extra sit-ups at the end of your workout.
5. Jump rope 29 times in a row. If you mess up, start over.
6. If you don't work out presently, use the extra day in 2012 to get started. Exercise for 29 minutes, even if it's as simple as walking on the treadmill or outside, riding an exercise bike and stretching.
You have an extra day this year and those don't come along that often. Take advantage of it in a healthy way.
Happy leap day everyone!
At Home Fitness consultant Aaron Dorksen's blog deals with a variety of fitness topics, ranging from workout tips, motivational ideas and feature stories on how exercise impacts people's lives. E-mail him with comments, questions or ideas for future blogs at aaron@athomefitness.com