AHF has Inspire Home Gyms at Barrett-Jackson Auction in Scottsdale
SCOTTSDALE — The Barrett-Jackson "World's Greatest Collector Car Auctions" have some of the greatest vehicles known to man on auction from from Jan. 12-19. Come to Westworld of Scottsdale, 16601 N Pima Rd, Scottsdale, Ariz., to check out the great vehicles.
While you're at the Barrett-Jackson show, make sure to check out some of the top fitness equipment available in the world at the At Home Fitness booth.
Arizona's No. 1 fitness retailer has many great deals going on just for the show.
Two pieces of equipment on display that really catch my eyes are the Inspire Fitness Home Gyms.
** The Inspire Fitness M2 Home Gym comes from a company with many years in the business and has evolved into a gym other manufacturers envy. The Inspire Fitness M2 Home Gym is a very compact, space saving design with some of the most unique features in the fitness industry today.
** The Inspire Fitness M3 Home Gym has a space saving frame with all the "bells and whistles" you would expect from a much more expensive model. It's compact enough to fit on a 4'x6' mat, but delivers an incredible array of exercise you would get from a gym twice this size.
Both of these home gyms provide a wide variety of exercises you can perform, can easily be adjusted and are smooth to use.
BARRETT-JACKSON HIGHLIGHTS
The Barrett-Jackson auctions will be televised Thursday on FOX Sports 2 and FOX Business Network (check your local listings for exact times.).
Among the cars that stand out on the auction block for Thursday are a 2013 Ford Fusion NASCAR race car, 1967 Austin-Healey Sprite MK IV 2 Door and 1971 Ford Mustang Mach 1 Fastback.
Of course, there are hundreds of other great cars that you simply must see to believe.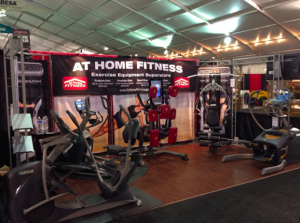 At Home Fitness consultant Aaron Dorksen's blog deals with a variety of fitness topics, ranging from workout tips, motivational ideas and feature stories on how exercise impacts people's lives. E-mail him with comments, questions or ideas for future blogs at aaron@athomefitness.com