At Home Fitness Ahwatukee store has giant showroom, great selection
The At Home Fitness Ahwatukee location is a "superstore" in every sense of the word.
At Home Fitness Ahwatukee, located at 14647 So. 50th Street, Phoenix, Arizona 85044, is a 16,000-square foot facility and has a giant selection of new and used specialty fitness equipment. This location also houses the home office and corporate warehouse for Arizona's fitness giant. Take the I-10 to Chandler Rd. exit to visit the store and discover why At Home Fitness is the biggest and best retailer for exercise equipment in Arizona.  Call 480-940-1022 for more information.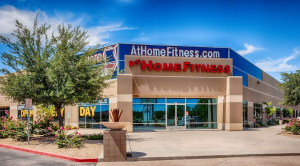 If you are looking for a running treadmill, folding treadmills, or other specialty fitness equipment in Arizona, At Home Fitness Ahwatukee is conveniently located near Phoenix, Chandler, Tempe and it's the chain's closest store to Tucson.
Because of the size of the store in Ahwatukee a great selection of fitness equipment is on the showroom floor, ready for customers to try out. Another luxury is that the floor space provides the ability to display limited-edition fitness equipment, product samples and prototypes. At Home Fitness Ahwatukee also offers the best fitness equipment repair and service in Arizona.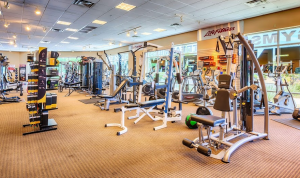 No matter what your fitness level, At Home Fitness in Ahwatukee can find the right equipment to improve yourself. Fitness equipment for people of all ages and backgrounds can be found at At Home Fitness in Ahwatukee, ranging from the best selection and deals on treadmills and elliptical machines in Arizona, to home gyms and free weights, to exercise bikes and vibration machines. The highly trained At Home Fitness sales associates keep up with the latest trends and innovations to give customers the best value for their money. The experienced At Home Fitness staff will listen to your fitness needs and requirements, ask questions of their own, and ultimately show you the best options at the best prices.
For the best specialty fitness equipment in Arizona, At Home Fitness also has stores at the following locations:
* Desert Ridge Marketplace, 21001 N. Tatum Blvd, Phoenix, 85050;
* Gilbert, 2810 S. Market St. and;
* Scottsdale, 6969 E. Shea Blvd.
Treadmills, vibration machines, elliptical and many more types of fitness equipment can also be found on our website at www.athomefitness.com.
At Home Fitness consultant Aaron Dorksen's blog deals with a variety of fitness topics, ranging from workout tips, motivational ideas and feature stories on how exercise impacts people's lives. E-mail him with comments, questions or ideas for future blogs at aaron@athomefitness.com