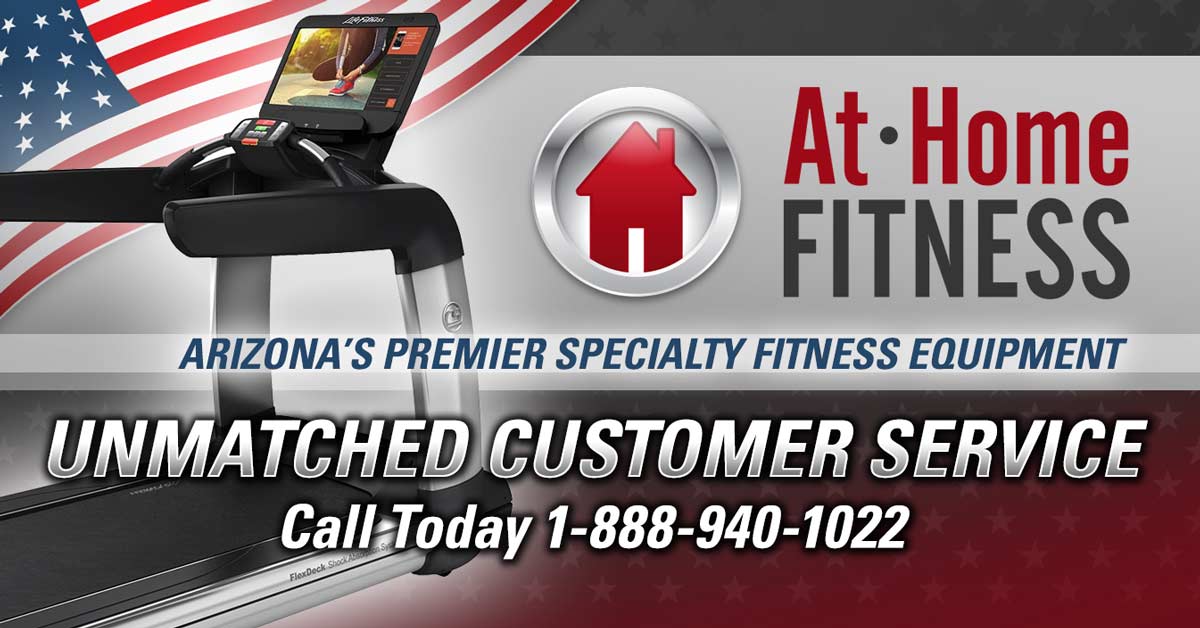 At Home Fitness customer service is unmatched in specialty fitness equipment industry
By AARON DORKSEN — At Home Fitness Consultant
Retail giants such as Amazon, Wal-Mart, Costco, or other national big box stores have ever-growing advantages when it comes to pricing and distribution because of the sheer volume of merchandise they sell.
However, they'll never be able to touch the level of customer service, or the pride of a company like At Home Fitness.
At Home Fitness's expert fitness consultants will help customers choose the right piece of exercise equipment based on budget, fitness needs, room size and many other factors.  The goal is always to create an exceptional in-store experience for each client based on their very specific needs.  At Home Fitness was founded on the belief that every customer should have an amazing experience from start to finish.  At Home Fitness does not outsource deliveries, installation or service.  These services are all done by hand-picked At Home Fitness employees, who have been properly vetted and trained. 
Contact At Home Fitness Service
At Home Fitness has been Arizona's leader in specialty exercise equipment since opening in 2004 because no one can match its combination of selection, prices, expertise and customer service.
The focus is always on the customer at At Home Fitness, with honest recommendations, pricing, and a relentless insistence on high-quality products and superior customer service.
When the phone rings at At Home Fitness, or an email is sent, a caring, highly knowledgeable sales associate will help you choose from 30-plus brands of equipment they carry. Or, you might even get one of the At Home Fitness co-owners, who regularly work in the chain's three Arizona Superstores.
At Home Fitness is proud to offer the following superstore locations:
Ahwatukee Fitness Equipment Superstore
14647 So. 50th St. located near Ahwatukee, Phoenix, Chandler, Tempe and it's the chain's closest store to Tucson.
Visit Ahwatukee
Gilbert Fitness Equipment Superstore
2810 S. Market St., located near Mesa, Apache Junction, Gold Canyon, Queen Creek, Chandler and Gilbert, to name a few.
Visit Gilbert
Scottsdale Fitness Equipment Superstore
6969 E. Shea Blvd. located near Scottsdale, Fountain Hills, Cave Creek, Anthem and many other locations in the West Valley.
Visit Scottsdale
* For Commercial Sales call 888-351-6951, while the Service Department can be reached at 480-940-1022 or email Support@AtHomeFitness.com.
The retail giants like Amazon or Wal-Mart are simply too big and too diverse to offer the specialized customer service you'll get at At Home Fitness.
While you may save a few bucks, will you get a good warranty?
Will your machine be of lower quality and break down much sooner than one from At Home Fitness? Who will be there to help you repair your treadmill belt if it quits working, or fix your elliptical machine if it gets off track?
At Home Fitness carries award-winning brands such as 3G Cardio, Bladez Fitness, Body Solid, Bodycraft*, Bodyguard, BH Fitness, Cybex, Dr. Hoys, ElliptiGO, GoFit, Inspire Fitness; Landice, Life Fitness, LifeCore Fitness, Nexersys, Nautilus*, Octane Fitness, Power Plate, PowerBlock, Spri, Stairmaster, Torque Fitness, VectraFitness.
At Home Fitness is not a fly-by-night, E-commerce site that is here today, gone tomorrow.
They have a reputation to uphold in the industry and will make sure you are satisfied. The exercise equipment they sell is exclusive to them and they've worked extremely hard to earn the distribution rights to represent these products. Just like you have high expectations for service, so do they.
Buy a treadmill, elliptical machine, exercise bike, home gym or other piece of exercise equipment from At Home Fitness and Arizona's fitness leader will always be there for you. They have a certified in-house service department, which services and repairs equipment in the stores, or on house calls.
Unlike other Arizona fitness retailers, At Home Fitness doesn't outsource its service orders.
The hand-picked At Home Fitness service team has many years of combined experience and they're ready to assist you.
The online reviews more than back up At Home Fitness' fantastic prices, quality and service.
Their service is unparalleled in Arizona and people can shop from them anywhere in the U.S. on athomefitness.com. Simply stated, At Home Fitness understands and cares about its customers.
If you have any questions before, during or after your buying experience, At Home Fitness will help you choose the perfect exercise equipment and keep it working smoothly for as long as possible.
At Home Fitness consultant Aaron Dorksen's blog deals with a variety of fitness topics, ranging from workout tips, motivational ideas and feature stories on how exercise impacts people's lives. E-mail him with comments, questions or ideas for future blogs at aaron@athomefitness.com
Contact At Home Fitness