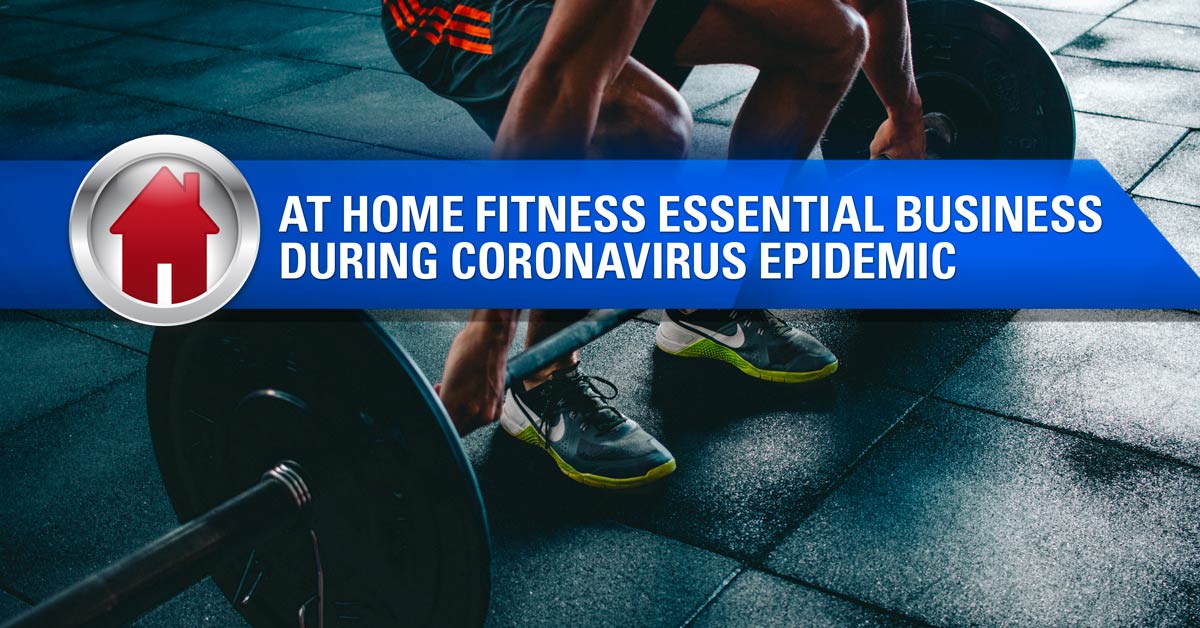 At Home Fitness remains open as an essential business during Coronavirus epidemic
Arizona superstores committed to following CDC and WHO guidelines, helping customers
PHOENIX, Arizona – At Home Fitness has been classified as an essential business during the Coronavirus epidemic. Arizona's leader for specialty fitness equipment sales and service remains committed to helping customers, while following the directives of the Centers for Disease Control and World Health Organization.
At Home Fitness falls under the classifications of "hardware and equipment supply stores" and "distribution of essential products."
Exercising at home is a great way to stay in shape and also relieve stress. At Home Fitness wants to make sure people have access to top-rated fitness equipment at the lowest prices possible during this pandemic.
The At Home Fitness Phoenix Superstore, At Home Fitness Scottsdale Superstore and At Home Fitness Ahwatukee Superstore locations have new hours for their showrooms:
Buy a treadmill, elliptical machine, exercise bike, home gym, or other piece of exercise equipment from At Home Fitness Superstore and Arizona's fitness leader will always be there for you. They have a certified in-house service department, which services and repairs equipment in the stores, or on house calls. Unlike other Arizona fitness retailers, At Home Fitness doesn't outsource its service orders.
At Home Fitness Superstore is the biggest and best specialty fitness equipment chain in Arizona and also a leader in online sales nationwide. The At Home Fitness superstores are going to great lengths to help customers during the coronavirus pandemic.
"We would like to inform our customers that we are taking special precautions in-store, including extra cleaning and sanitizing of all equipment, door handles, counters, etc.," At Home Fitness reported on its website."If you are unable to visit our stores, we will be more than happy to help you select a piece of equipment over the phone, which we can deliver and install.
"All orders include a 30-day money back guarantee. We do our own deliveries and service and will take all necessary precautions when we enter your home."
At Home Fitness is operating with limited staff in its superstore showrooms and following social distancing recommendations. They are still able to allow customers in the stores, accommodate curbside pickup or deliver equipment.
If equipment a customer wants is out of stock, At Home Fitness will get it shipped as soon as possible.
At Home Fitness has a large inventory of equipment currently available in its stores after recently receiving one of the biggest product shipments in store history.
If an item you want is out of stock, bear with them. They will get it to you eventually.
With the recent closure of health clubs, yoga studios and gyms, there is now an overwhelming sense of urgency for people to have something to use in their home.At Home Fitness is able to meet that demand and deliver and install exercise equipment within a 3 day period on in stock inventory.
Anyone With Questions About At Home Fitness Products Can Call 1-800-940-1022 Or Message Or Visit: www.Athomefitness.Com For Store Locations.
Ahwatukee Fitness Equipment Superstore
14647 So. 50th St. located near Ahwatukee, Phoenix, Chandler, Tempe and it's the chain's closest store to Tucson.
Visit Ahwatukee
Gilbert Fitness Equipment Superstore
2810 S. Market St., located near Mesa, Apache Junction, Gold Canyon, Queen Creek, Chandler and Gilbert, to name a few.
Visit Gilbert
Scottsdale Fitness Equipment Superstore
6969 E. Shea Blvd. located near Scottsdale, Fountain Hills, Cave Creek, Anthem and many other locations in the West Valley.
Visit Scottsdale