At Home Fitness has new website, same commitment to great service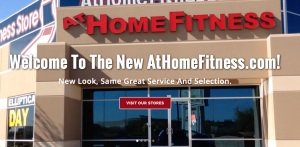 At Home Fitness has a great new look. There's a new logo and a new website, but it's the same great company.
As Arizona's leader for specialty fitness equipment and also a national online superstore, At Home Fitness has always been a company that's kept ahead of the trends.
More than half the people who visit the www.athomefitness.com website search on a mobile device, such as a tablet or a phone, and the resigned website has been updated to be more mobile friendly.
The new website has a clean overall design and easier to use search features.
Customers can search by brand or specific types of products, such as treadmills, ellipticals, home gyms, bikes, vibrations machines, accessories, used equipment and more.
Quick clicks can also take you to a store locator, live help, customer reviews, service department and updates on sales.
Keep up to date with the latest health and fitness tips from award-winning writer Aaron Dorksen with "Aaron's Fitness Blog."
Led by co-owners Bryan Dorksen and Greg Feeder, At Home Fitness has become one of the premier specialty fitness dealers in the country. AHF exclusively offers the highest rated, best value products available in this industry.
Combine that with a company that is committed to excellence and you will see why shopping AHF in one of their retail stores or online is an experience second to none in the industry. The company is dedicated to making sure your experience is enjoyable from start to finish.
AHF has retail stores in Arizona located in Scottsdale, Desert Ridge, Gilbert and Ahwatukee and has been a part of the Arizona community since 2004. The company has a reputation to uphold in the industry and will make sure you are satisfied.
The exercise equipment AHF sells is exclusive to them and they have worked extremely hard to earn the distribution rights to represent these products. Just like you have high expectations for service, so does AHF.
In the end, the best advertisement At Home Fitness can ever hope for is a satisfied customer. And, with the new AHF website, the experience will get even better.