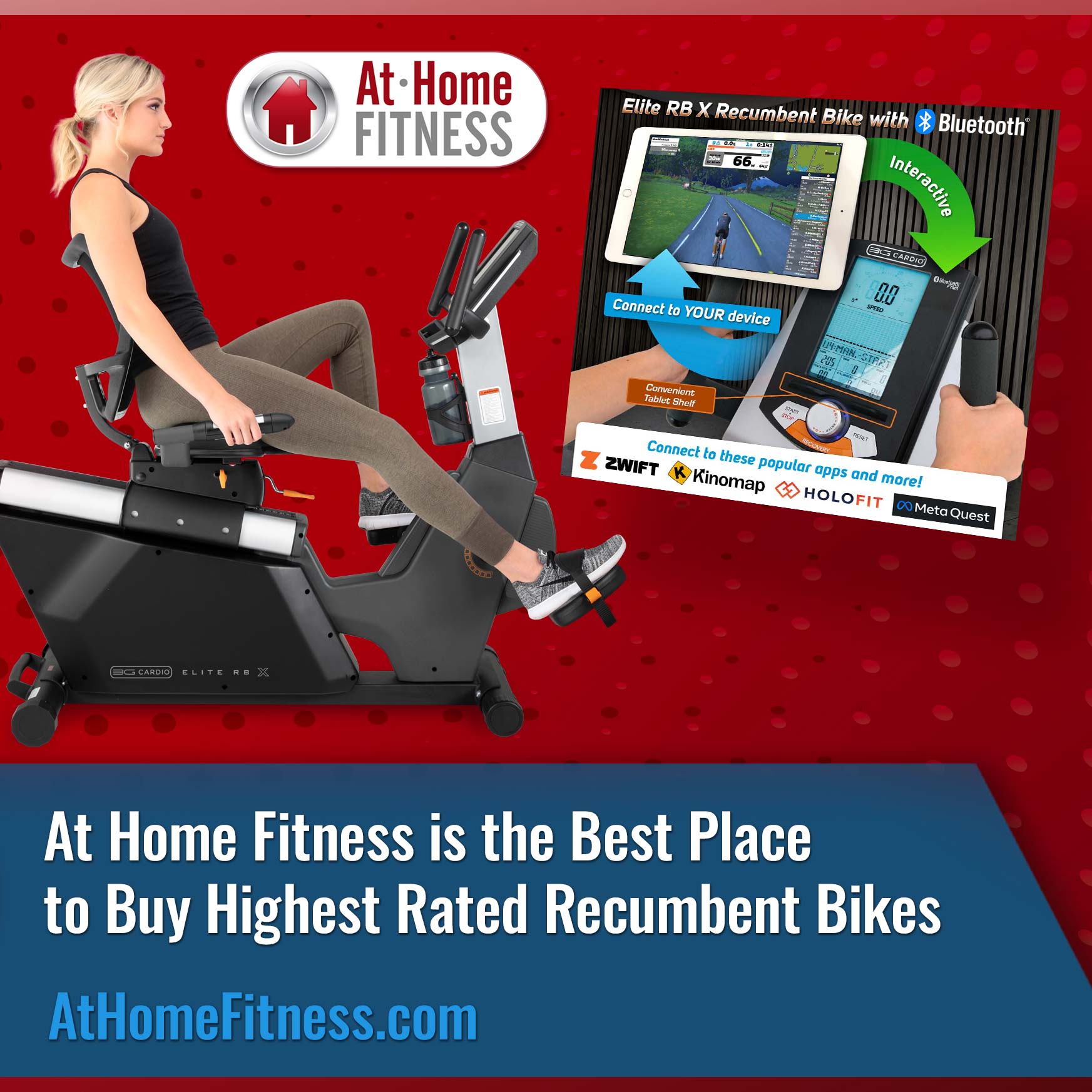 At Home Fitness is best place to buy highest rated recumbent bikes
Arizona's fitness leader has all new 3G Cardio Elite RB X Recumbent Bike, which features FTMS Bluetooth®
For those seeking the best place to purchase a recumbent bike in Arizona, we highly recommend visiting one of the At Home Fitness superstores.
Our fitness stores in Arizona proudly offer the new and improved 3G Cardio Elite RB X Recumbent Bike. Since its establishment in 2004, 3G Cardio has consistently prioritized customer feedback, resulting in the development of the 3G Cardio Elite RB X Recumbent Bike – a product that combines customer demands with innovative engineering.
The 3G Cardio Elite RB X Recumbent Bike offers customers a dual advantage. Their bikes are equipped with FTMS (Fitness Machine Service) Bluetooth, providing top-notch functionality. Additionally, unlike many competitor brands, our recumbent bikes eliminate the need for mandatory monthly subscription fees.
3G Cardio prioritizes investing in superior parts and a high-quality bike, rather than focusing on extravagant console features like some of competitors that jack up the price.
3G Cardio gives its customers with the choice when it comes to fitness apps, and ensures it is effortlessly achievable due to the presence of FTMS in every 3G Cardio Elite RB X Recumbent Bike. 3G Cardio customers appreciate simplicity, and 3G maintains the simplicity of its built-in electronics board without any alterations.
Customers don't want or need to add any more monthly subscription fees, or be bothered through emails, texts, or phone calls (ugh!) just to get an online fitness membership.
They don't want to bother signing into their recumbent bike and logging in to do updates. They've got everything they need already with the 3G Recumbent Bike.
You can easily pair your tablet with the upper display on the 3G Cardio Elite RB X Recumbent Bike. The best part? You won't have to buy new technology that you already own. Plus, when those built-in screens on other bikes eventually fail, they become useless. The LED style display is way more reliable, no contest!
Why don't all fitness manufacturers use FTMS? Well, it's simple – they want your membership money every month!
Bluetooth® FTMS is the language of fitness equipment
In the fitness equipment industry, the common language is called FTMS. FTMS stands for Fitness Machine Service and it's quickly becoming the gold standard for fitness apps.
Depending on your fitness goals and workout preferences, FTMS technology can enhance your exercise routine. If you own equipment with Bluetooth FTMS technology, such as the 3G Elite RB X Recumbent Bike, there are opportunities to elevate your workout.
With FTMS, you have the ability to enhance your workouts by making them more social, engaging, and, if desired, competitive. There are numerous exceptional fitness apps available, like Zwift, Kinomap, and others, that utilize this technology to provide an enjoyable and motivating workout experience.
If you prefer social exercise and find it challenging to work out at home alone, connecting your equipment with these apps allows you to interact with others in real-time. You can share your challenges and achievements, all from the comfort of your own home. For those who enjoy competition, being able to hop on your machine and join a race against friends and strangers worldwide can provide great motivation.
One of the added advantages of these apps and the underlying Bluetooth technology is the continuous enhancements and updates that contribute to making your workouts more engaging and stimulating.
Your electronics are superior
The Samsung tablets, iPads, Oculus, and other similar devices that many individuals already possess are of considerably superior quality compared to the embedded features found in most company's recumbent or upright bikes.
Why is that? The companies that incorporate sophisticated display screens into their exercise bikes may opt to reduce expenses, resulting in screens that are not nearly as excellent as those found in Samsung, iPad tablets, and similar devices.
Your Samsung, iPad tablet, Oculus, or other device will surpass anything that is "included" with a specialty fitness market treadmill or exercise bike.
By utilizing 3G's integrated FTMS Bluetooth, you can seamlessly synchronize your app with the 3G Cardio RB X bike, immersing yourself in a virtual world amidst mountains or alongside the iconic Eiffel Tower.
Alternatively, if this doesn't align with your preferences, the included 3G Cardio touch screen display provides all the necessary features for a productive workout.
Regardless, the 3G Cardio Elite RB X Recumbent Bike is offered at a significantly lower cost compared to competitors. While they may emphasize a flashy monitor, the long-term value may not be as compelling. The expensive screen from other brands may require a subscription and could potentially malfunction within a five-year span. On the other hand, a tablet can be easily replaced and utilized for various purposes.
Not only that, but the 3G Cardio Elite RB X Recumbent Bike has actually been hailed as the "World's Most Comfortable bike" by reviewers. Pretty impressive, right?
This recumbent bike has got you covered with its super comfy, adjustable seat and backrest, perfectly molding to your body shape and size. Plus, it's built like a tank and measures just 49 inches in length, fitting into tight spaces where other bikes can't even dream of squeezing in.
Ahwatukee Fitness Equipment Superstore
14647 So. 50th St. located near Ahwatukee, Phoenix, Chandler, Tempe and it's the chain's closest store to Tucson.
Visit Ahwatukee
Gilbert Fitness Equipment Superstore
2810 S. Market St., located near Mesa, Apache Junction, Gold Canyon, Queen Creek, Chandler and Gilbert, to name a few.
Visit Gilbert
Scottsdale Fitness Equipment Superstore
6969 E. Shea Blvd. located near Scottsdale, Fountain Hills, Cave Creek, Anthem and many other locations in the West Valley.
Visit Scottsdale