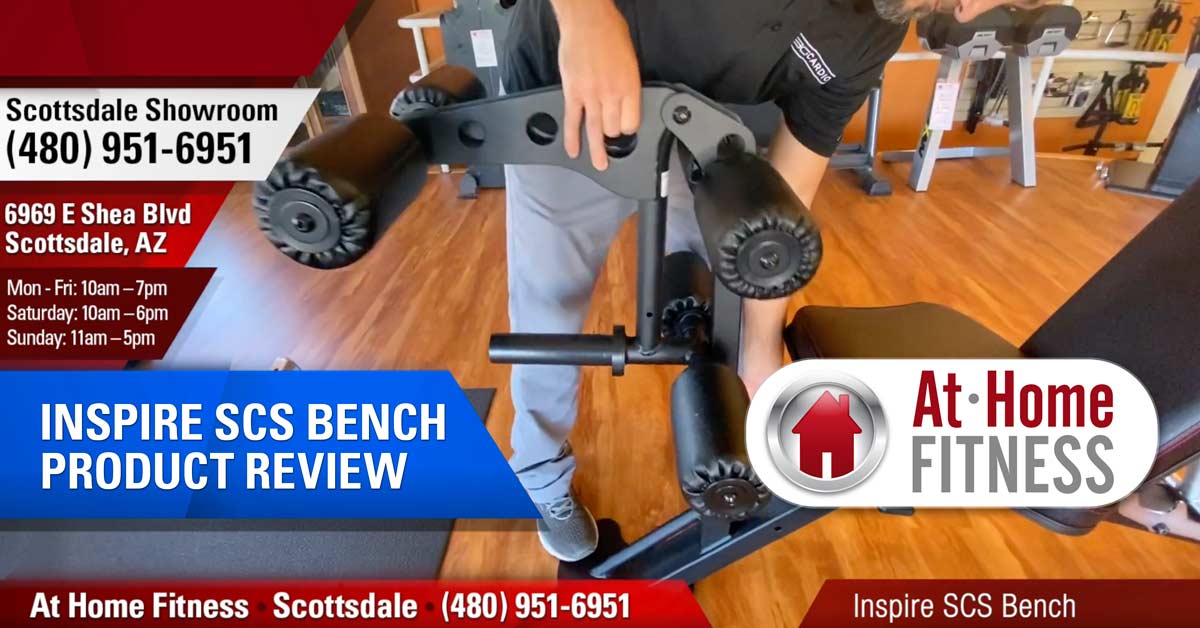 At Home Fitness Scottsdale GM Jaime Janman recommends Inspire SCS Bench
"A good bench is hard to find," said At Home Fitness-Scottsdale general manager Jaime Janman.
Anyone who's ever tried to exercise on a wobbly, shaky bench will attest to that. It's also frustrating to try to use a bench that won't adjust into the position you want.
Fortunately for fitness enthusiasts, At Home Fitness has a bench available in its Arizona superstores and online at www.athomefitness.com that's sure to get the job done for just about everyone.
"If you're looking for a good bench, we would recommend the Inspire Fitness SCS Bench," said Janman, who's been helping people in Arizona and beyond find the best specialty fitness equipment to meet their needs for more than a decade. "The Inspire SCS Bench  is one of our best sellers. It's a nice, heavy duty commercial grade."
With the help of sales associate Brian Ikegami, Janman demonstrated how easy it is to switch the bench into different positions on a video posted to the At Home Fitness YouTube channel.
Store Locator
Watch the Inspire SCS Bench Review:
Flat, incline or decline positions can be set in a matter of seconds. The seat can also be set for four different positions depending on a person's height.
"This bench includes the T-bar that you see at the end," Janman said. "One of the cool features on that is it is adjustable in height.
"It can be used for crunches. … There are also multiple accessories that you can use with the bench."
After pulling out the pop pin, a user can attach a leg extension/leg curl attachment, or a preacher curl pad. The bench is equipped to be used with Olympic weights or in conjunction with the cable weight stacks of the FT2 Inspire Home Gym.
The Inspire SCS Bench has a Heavy-duty 2″x 4″ oval frame and 3″ round 11 gauge tubular steel. The Electrostatic Powder Coat offers a durable, maintenance free finish. 
For more information on the Inspire SCS Bench stop in at At Home Fitness-Scottsdale, 6969 E. Shea Blvd, Scottsdale, AZ or call 480-951-6951.
Call one of At Home Fitness' superstore locations or stop in for more information:
Ahwatukee Fitness Equipment Superstore
14647 So. 50th St. located near Ahwatukee, Phoenix, Chandler, Tempe and it's the chain's closest store to Tucson.
Visit Ahwatukee
Gilbert Fitness Equipment Superstore
2810 S. Market St., located near Mesa, Apache Junction, Gold Canyon, Queen Creek, Chandler and Gilbert, to name a few.
Visit Gilbert
Scottsdale Fitness Equipment Superstore
6969 E. Shea Blvd. located near Scottsdale, Fountain Hills, Cave Creek, Anthem and many other locations in the West Valley.
Visit Scottsdale
For Commercial Sales call 888-351-6951, the Service Department can be reached at 480-940-1022 or email Support@AtHomeFitness.com.