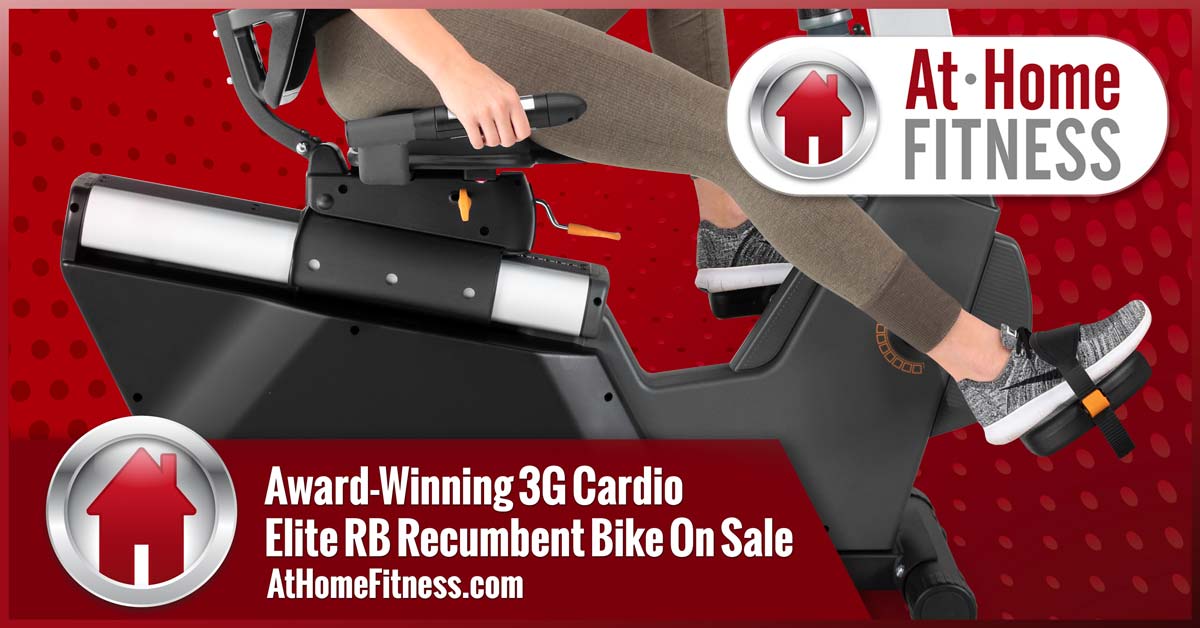 Award-Winning 3G Cardio Elite RB Recumbent Bike On Sale
The 3G Cardio Elite RB Recumbent bike provides a commercial gym experience, yet can fit into even small home gyms.
And, it's on sale right now at At Home Fitness for one of the lowest prices of the year. (Check athomefitness.com for latest pricing or call one of our superstores).
The 3G Cardio Elite RB Recumbent has been crafted with the best components available and is a true testament to 3G Cardio's commitment to excellence – earning it multiple awards.
Not only does it come equipped with an all-inclusive light commercial warranty, but also offers one of the most comprehensive home warranties in its class – making this bike even more attractive.
Don't let its small footprint fool you: once assembled, this powerful machine stands strong at just 49" (length) x 27" (width) x 43" (height).
The 3G Cardio Elite RB Recumbent Bike is renowned for its sturdiness, comfort and compact size. Serving both commercial gyms and home workouts alike, it's no surprise why this bike has such a loyal consumer base.
With an ultra-compact overall length of only 49 inches, the Elite Recumbent Bike fits into even tight spaces. Plus, it comes with handy transport wheels for simple relocation and storage when you're finished exercising!
If you're looking to bring the health club experience home, look no further than the Elite RB Bike. With a robust 350 lbs user weight capacity and 7-year parts warranty, this bike is designed for longevity! Not only that, but its specially engineered Q Factor pedal spacing ensures an ergonomic design with narrow spaces between pedals for maximum comfort – unlike any other model on the market today.
The RB Elite bike is an ideal choice for riders of different sizes, from 5-feet to 6-4. Its low profile engineering enables users to quickly step through and onto the bike with ease, while its comfortable pedals guarantee a pleasant ride.
Plus, you'll be able to watch your favorite shows or take in the room's view without straining your neck thanks to the conveniently placed console!
With a robust steel frame and adjustable mesh back seat rest, the 3G Cardio Elite RB Recumbent Bike is not just small and compact, but also incredibly secure. The super comfortable seating ensures maximum comfort while pedaling. This durable bike can be found in many light commercial personal training gyms as well as hospitality establishments like motels or hotels for their workout rooms, or even home owner's association fitness centers.
The Arizona-based company 3G Cardio has won numerous awards for their treadmills and vibration training machines, but the exercise bikes are also essential components of their renowned All-Star lineup.
At Home Fitness's veteran sales associate "Big" Mike Sullivan was impressed with the features of 3G Recumbent Bike.
"Recumbent bikes are typically used for people who are nursing ailments, but you can also get a killer workout on them as well," "said Sullivan, a sales associate for the At Home Fitness-Gilbert store located at 2810 S. Market St. Gilbert, Arizona. "Comfort is king with the 3G Cardio Recumbent Bike and it also comes at a great price."
Sullivan said that the 3G Cardio Recumbent Bike is a delight to offer to customers due to its many features.
"With a recumbent bike, you get a lot of back support and really smooth pedaling, which is outward instead of downward on an upright bike," Sullivan said.
Ahwatukee Fitness Equipment Superstore
14647 So. 50th St. located near Ahwatukee, Phoenix, Chandler, Tempe and it's the chain's closest store to Tucson.
Visit Ahwatukee
Gilbert Fitness Equipment Superstore
2810 S. Market St., located near Mesa, Apache Junction, Gold Canyon, Queen Creek, Chandler and Gilbert, to name a few.
Visit Gilbert
Scottsdale Fitness Equipment Superstore
6969 E. Shea Blvd. located near Scottsdale, Fountain Hills, Cave Creek, Anthem and many other locations in the West Valley.
Visit Scottsdale