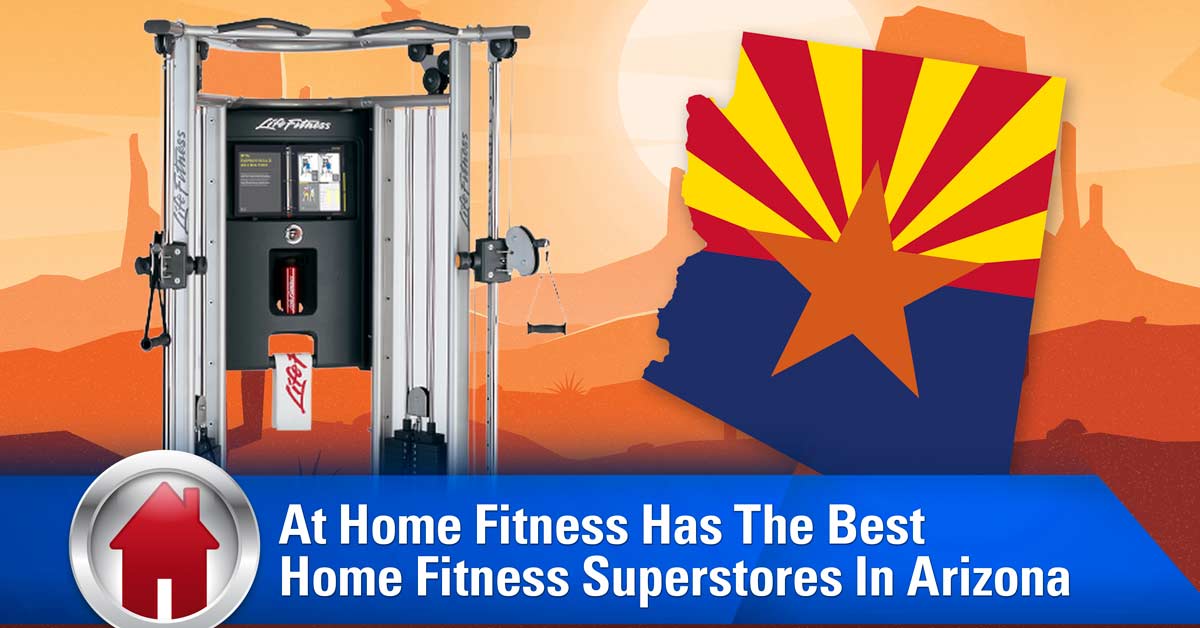 At Home Fitness Has Best Home Fitness Superstores In Arizona
The trusted name for a home fitness superstore in Arizona is At Home Fitness.
At Home Fitness opened in 2004 under the direction of co-owners who already both had several decades of home fitness superstore experience.
They took what they knew about the industry and vowed to put customers first by offering great selection, prices and customer service.
Arizona's home fitness superstore leader has three locations.
They sell award-winning brands such as 3G Cardio, Bladez Fitness, Body Solid, Bodycraft, Bodyguard, BH Fitness, Cybex, Dr. Hoys, ElliptiGO, GoFit, Inspire Fitness; Landice, Life Fitness, LifeCore Fitness, Nexersys, Nautilus, Octane Fitness, Power Plate, PowerBlock, Spri, Stairmaster, Torque Fitness, VectraFitness.
Whether you want the newest and best models, or certified used fitness equipment, At Home Fitness has Arizona home fitness superstores conveniently located in Scottsdale, Ahwatukee and Gilbert.
North or South, East or West in Arizona, At Home Fitness is where to find a home fitness superstore near you.  They have the state's best selection, expertise and deals on specialty fitness equipment.
At Home Fitness has treadmills, exercise bikes, elliptical machines, home gyms, vibration training machines and more, offering customers the best deals on exercise equipment in Arizona at its home fitness superstores and online at www.athomefitness.com.
All used equipment is checked and certified as top quality by At Home Fitness' highly trained service department. No other fitness retailers in Arizona have a service department that compares to At Home Fitness, which also can fix or tune-up your fitness equipment.
If you want to know where to buy or sell used fitness equipment in Phoenix, or nearby cities such as Chandler, Mesa, Glendale, Scottsdale, Ahwatukee, Gilbert and beyond, there is an At Home Fitness location near you.
At Home Fitness is proud to offer the following home fitness superstore locations:
Ahwatukee Fitness Equipment Superstore
14647 So. 50th St. located near Ahwatukee, Phoenix, Chandler, Tempe and it's the chain's closest store to Tucson.
Visit Ahwatukee
Gilbert Fitness Equipment Superstore
2810 S. Market St., located near Mesa, Apache Junction, Gold Canyon, Queen Creek, Chandler and Gilbert, to name a few.
Visit Gilbert
Scottsdale Fitness Equipment Superstore
6969 E. Shea Blvd. located near Scottsdale, Fountain Hills, Cave Creek, Anthem and many other locations in the West Valley.
Visit Scottsdale
* For At Home Fitness Commercial Sales call 888-351-6951, while the Service Department can be reached at 480-940-1022 or email Support@AtHomeFitness.com.
The At Home Fitness consultants know how to help customers choose the right piece of exercise equipment based on budget, fitness needs, room size and many other factors.
The goal is always to create an exceptional in-store experience for each client based on their very specific needs.
Now, you'll know the answer next time you hear someone ask this question, "Where can I find a home fitness superstore near me in Arizona?" Tell them, "At Home Fitness."
At Home Fitness consultant Aaron Dorksen's blog deals with a variety of fitness topics, ranging from workout tips, motivational ideas and feature stories on how exercise impacts people's lives. E-mail him with comments, questions or ideas for future blogs at aaron@athomefitness.com
Editor's note: At Home Fitness is extremely proud to be deemed an "essential business" and be able to continue helping the public during the Coronavirus pandemic. They are taking special precautions in all their stores, including extra cleaning and sanitizing of all equipment, door handles, counters, etc. If you are unable to visit a store, they will be more than happy to help you select a piece of equipment over the phone. At Home Fitness can still deliver and install equipment. For more information, contact At Home Fitness through one of the methods listed in this article.