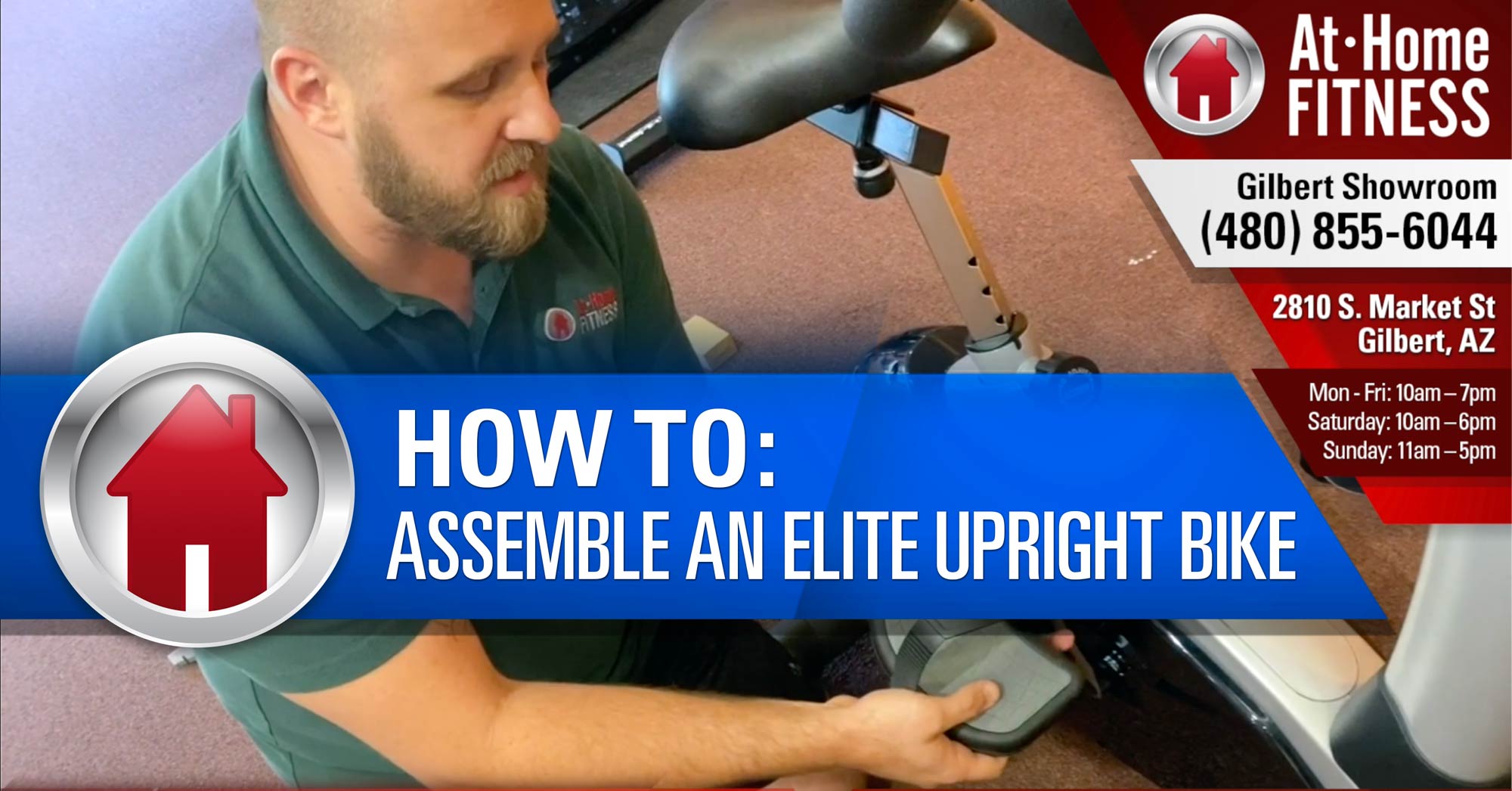 Easy to follow assembly tips for 3G Cardio Elite UB Upright Bike
At Home Fitness-Gilbert sales associate Mike Sullivan explains how to go from box to biking
The 3G Cardio Elite RB Upright Bike is one of the best values on the market. It's extremely sturdy, yet it doesn't take up a lot of room. 
It doesn't take a lot of time to set up, either.
Owners have two options after ordering the 3G Cardio Elite RB Upright Bike: Pay $199 for white glove delivery and home set-up service, or do it yourself. 
Mike Sullivan from the At Home Fitness – Gilbert, Arizona store recently did a YouTube video demonstrating the ease with which the 3G Upright Bike can go from box to workout ready in a little over an hour.
If you can put together a piece of furniture from IKEA with relative ease, you can assemble a 3G Cardio Elite UB Upright Bike.
Here are some highlights from Mike's YouTube tutorial:
*When unpacking, spread all the parts out so you can see what all you have. The instruction manual has easy to follow pictures.
*Put the front stabilizer on the base first to hold it up, then attach the rear stabilizer.
*Slide the neck piece onto the base and connect the wires before bolting together. Make sure to tighten the neck piece really well.
*Attach the handlebars, connecting wires first and then bolting into place.
*Attach the console next, in the same manner.
*Mike explained that many of the pieces come with bolts in them, take them out to connect parts and then bolt together.
*Attaching the seat is easy to do. "The triangle (under the seat) literally only fits on one way," Mike said. "Do your best to try to center it, then screw the nuts in so the seat's not crooked.
*Each pedal has a little marker for "left" and "right."
"Go ahead and start the thread, but be careful not to strip it," Mike said.
*Finally, plug in, test ride and you should be ready to go.
Anyone with questions can call the At Home Fitness-Gilbert store at 800-855-6044 or call 3G Cardio directly at 888-888-7985.
3G UPRIGHT BIKE FEATURES
A heavy duty, steel reinforced upright column provides strength and stability. A compact step-through frame allows users to get on and off the bike with ease. An oversized, fully adjustable seat provides optimal comfort and stability.
The dimensions are 41 inches length x 22.5" width and 55" height. The machine weight is 100 pounds.
The 3G Cardio Elite UB Upright Bike transport wheels allow it to be easily moved from room to room with the built-in transport handles. The bike also comes with heart straps compatible for wireless heart rate monitoring, and it has an integrated SmartFan for keeping you cool.
3G Cardio has won countless accolades for its treadmills and vibration training machines and the exercise bikes are the newest additions to the Arizona based company's All-Star lineup.
The 3G Cardio lineup of treadmills, exercise bikes and vibration machines ranks among the best of the best in the industry.
Based out of Phoenix, Ariz., the 3G Cardio Company has garnered numerous Best Buy and 5-star awards because of their rare combination of quality and value.
FREE SHIPPING
3G Cardio features a 30-day money back guarantee. Buy today and your order will leave the 3G Cardio Arizona warehouse in 3 business days for in-stock items.