ElliptiGO: about the most fun you'll ever have exercising
I want to tell you about one of the most fun, unique ways to exercise you'll ever experience. An ElliptiGO is not only an enjoyable machine to ride, but it can help get you in great shape. And it will be a fun conversation piece in your neighborhood as well.
An ElliptiGO is like going for an actual bike ride on an elliptical machine.
The ingenious machine is part elliptical, part bike. It takes the health club workout many of us are accustomed to and brings it outdoors in a whole new way.
When riding the ElliptiGO, available through At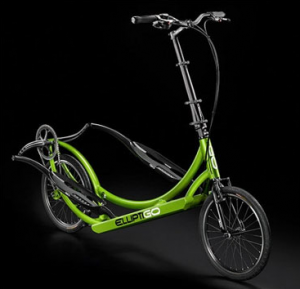 Home Fitness, you are constantly moving. It provides an excellent cardiovascular workout, but because you also have to push with your legs and pump the handles with your arms, you also get a good strength workout.
An ElliptiGO lets you cover a lot of ground, enjoy the fresh air and at the same time it's easier on the joints than running.
The ElliptiGo has three speeds and you power it with foot movements like you'd use on an elliptical machine, while controlling the handlebars to steer, adjust the resistance and speed and brake.
Former Ironman triathlete Bryan Pate invented the ElliptiGO to help runners avoid beating up their bodies through repeated impact by offering a safe alternative to running.
Pate, a former cyclist and triathlete, who suffered hip and knee injuries, calls the ElliptiGo a low-impact, high-output, cross-training bike that combines running and cycling. It weighs just 40 pounds.
Depending on your leg strength, you can ride the ElliptiGO anywhere from 15-25 mph. The ElliptiGO can take a short while to get used to, but is actually pretty simple to ride. Once you find the right stance to ride it and work on turning corners, you'll find you can actually get some good speed going. Even going up hills is pretty easy.
It can accommodate people of just about all sizes, with a weight limit up to 250 pounds.
Made of sturdy, but lightweight material, the ElliptiGO weights 40 pounds. The bike retails for around $1,800-$3,500 depending on which model you purchase.
At Home Fitness consultant Aaron Dorksen's blog deals with a variety of fitness topics, ranging from workout tips, motivational ideas and feature stories on how exercise impacts people's lives. E-mail him with comments, questions or ideas for future blogs at aaron@athomefitness.com