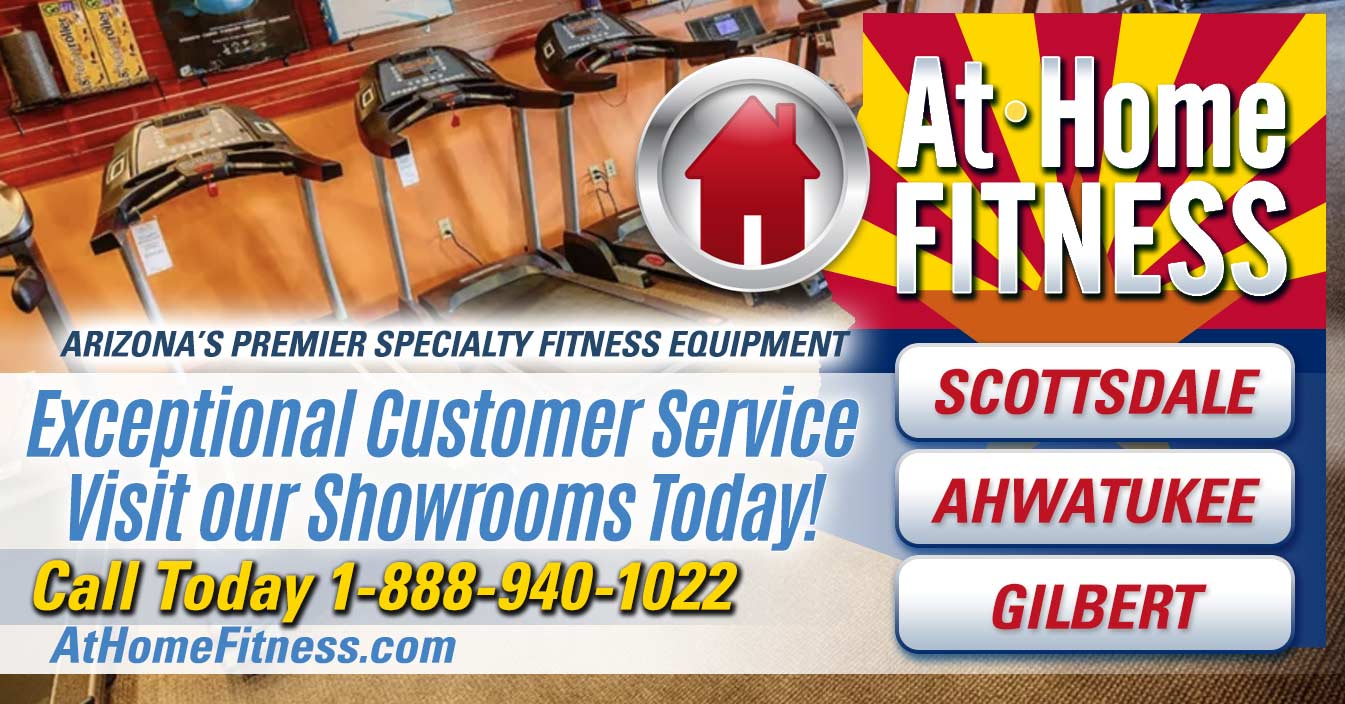 Discover the At Home Fitness difference: Exceptional Customer Service
Providing exceptional customer service has been the primary focus since At Home Fitness opened its line of superstores in 2004 and it's helped the company grow to become the biggest and best in Arizona.
The co-owners and highly trained sales associates strive every day to offer customers the best selection, prices, expertise and customer service in the industry.
Customers are treated like family. They have come to expect and appreciate honest recommendations, great prices, high-quality products and superior customer service.
At Home Fitness carries award-winning brands such as 3G Cardio, Bladez Fitness, Body Solid, Bodycraft, Bodyguard, BH Fitness, Cybex, Dr. Hoys, ElliptiGO, GoFit, Inspire Fitness; Landice, Life Fitness, LifeCore Fitness, Nexersys, Nautilus, Octane Fitness, Power Plate, PowerBlock, Spri, Stairmaster, Torque Fitness and VectraFitness.
Here are some comments from satisfied customers:
* "Thank you so much for your prompt response and excellent customer service. Because of your proactive engagement on all my purchases, I decided today to purchase additional equipment from your company."
– Lee and Debby, Cave Creek AZ
* "We love our new home gym. Both the F7 Torgue Fitness Fold-Away Strength Center and the Octane 37 Elliptical are excellent products. At Home Fitness has, as you did six years ago, provided us with a complete fitness center at our new home.
– Dwayne F., Orlando, FL
* "Thanks for a great purchasing experience. As you know, I spoke with numerous Landice dealers before making a decision to go with At Home Fitness. Your knowledge, responsiveness and pricing made At Home Fitness the clear choice. And the post purchase experience was equally as impressive. You did a great job of communicating the status of the order and coordinating a flawless delivery process. You patiently answered my numerous questions and quickly responded to every email (even on your days off or in the middle of the night). I couldn't have asked for more."
– Judy B., Haymarket, VA
Ahwatukee Fitness Equipment Superstore
14647 So. 50th St. located near Ahwatukee, Phoenix, Chandler, Tempe and it's the chain's closest store to Tucson.
Visit Ahwatukee
Gilbert Fitness Equipment Superstore
2810 S. Market St., located near Mesa, Apache Junction, Gold Canyon, Queen Creek, Chandler and Gilbert, to name a few.
Visit Gilbert
Scottsdale Fitness Equipment Superstore
6969 E. Shea Blvd. located near Scottsdale, Fountain Hills, Cave Creek, Anthem and many other locations in the West Valley.
Visit Scottsdale
When it comes to selling specialty fitness equipment, At Home Fitness has been Arizona's leader for nearly 20 years. The pros at At Home Fitness are also the best people for taking care of it.
At Home Fitness has superstores located in Scottsdale, Phoenix and Gilbert. Their outstanding service team can help customers take care of just about any situation.
The At Home Fitness service team has many years of combined experience and they're ready to assist you. 
Taking care of your fitness equipment is the best way to ensure that it runs smoothly for a long time. Whether you own a treadmill, elliptical machine, exercise bike or something else, At Home Fitness can help you out.
At Home Fitness' certified technicians can service, repair, set up, store or move nearly all types of exercise equipment in Arizona.
It doesn't matter if you bought your treadmill from At Home Fitness, or somewhere else, the AHF service team can make sure your machine is running at optimum performance level.
AHF services most brands of personal and commercial equipment.
At Home Fitness can service your equipment in one of their superstores or make house calls.
Call At Home Fitness at 480-940-1022 or 888-940-1022 (Ext 2) to reach the Service and Repair Department or email Support@AtHomeFitness.com. Or, set up an appointment online at https://www.athomefitness.com/service-department/#service