Fitness Apps make exercising more efficient, fun
Technology gets more and more amazing every day and when it comes to fitness their an App for just about anything you can think of to be healthier.
There are countless Apps for fitness and nutrition available at minimal or no cost, such as the free iPhone App MyFitnessPal.
Whether you're in search of a healthy restaurant for a quick lunch break, or you want to sit down and plan nutritious meals for the upcoming week, MyFitnessPal is your best friend when it comes to eating better.
Here are three more Fitness Apps I really like:
* 3G Cardio Accelerated Vibration Training AVT™ Exercise App – Vibration training is the fastest growing segment of the fitness industry and thanks to the designers at 3G Cardio there's now an App for it.
Users of the award-winning 3G Cardio AVT™ 6.0, 5.0 and 3.0 Vibration Machines not only have the best in design and parts, but the best in user friendly controls.
And it doesn't get any better, easier, fun or more beneficial than the 3G Cardio Accelerated Vibration Training AVT™ Exercise App that can be downloaded free to your I-pad from iTunes.
This App is broken into three workout options – strength training, stretching or massage.
Simply touch the program you want and it will pull up videos with audio that will take you through a complete program.
It's almost like having a personal trainer right in your workout room to help show you the proper technique and provide added motivation.
People of all ages and physical backgrounds are benefiting from the 3G Cardio Accelerated Vibration Training AVT™ Exercise App.
Put away the workout poster or magazine and download the 3G Cardio Vibration Training App today.
* Fit Freeway – This retro arcade-style car-racing game by Active Theory is a lot of fun to play while exercising on an elliptical or stationary bike.
The faster your legs move, the faster the race car goes. It reads your speed by using your iPhone or iPad's accelerometer to read the vibrations in the exercise bike or elliptical. These vibrations are analyzed and converted into your exercise cadence.
Here's another super-fun feature: the front facing camera on your device reads your head position so you can steer with your head.
*Zombies, Run 5K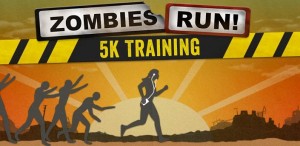 – Zombies are all the rage lately, with shows such as "The Walking Dead" becoming super popular.
Running from Zombies on this App for Android and iOS is a fun way to motivate you into doing a bit more exercise.
This App delivers an audio adventure with you as the star who's trying to outrun zombies over the course of several missions.
You'll have so much fun trying to be a hero or heroine that you'll forget how hard your running. Follow this program for eight weeks and you'll be ready to run a 5K race.
There are also good Apps such as "Gorilla Workout," "Navy Seals Fitness" and much more.
No matter what App(s) you choose there is still no quick fix for weight loss – it is still your responsibility to eat right and exercise.
But I certainly can help with the process of eating right and exercising to get some added information and motivation for the modern convenience of fitness Apps.
At Home Fitness consultant Aaron Dorksen's blog deals with a variety of fitness topics, ranging from workout tips, motivational ideas and feature stories on how exercise impacts people's lives. Consult a doctor before making any significant changes in your exercise routine or diet. E-mail him with comments, questions or ideas for future blogs at aaron@athomefitness.com