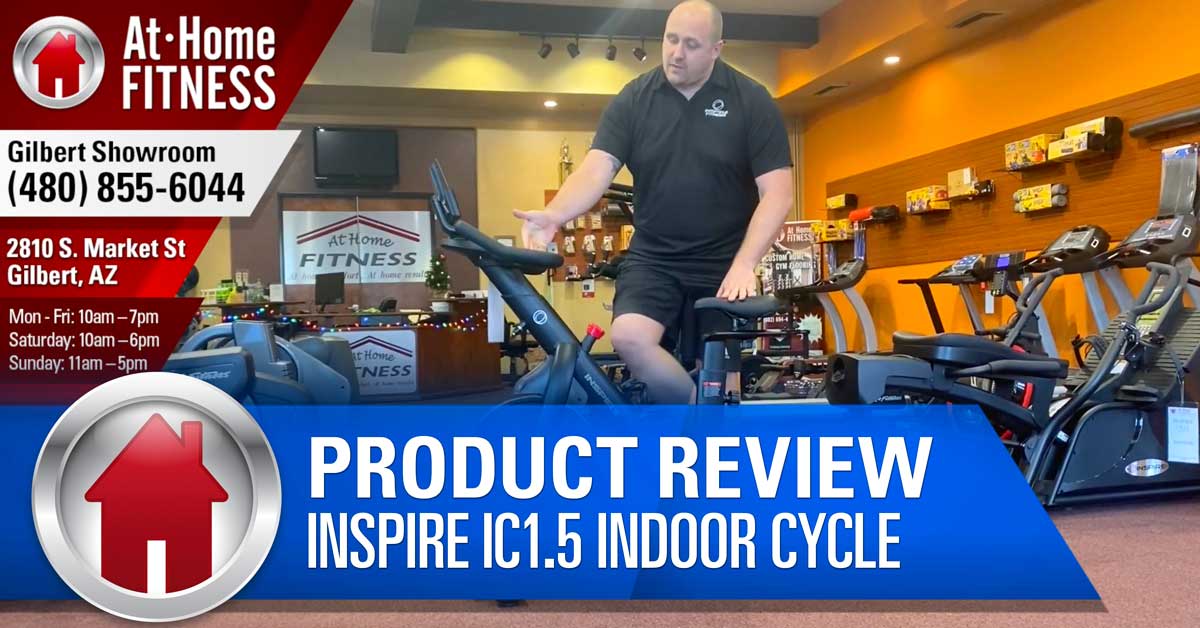 Inspire IC1.5 Indoor Cycle brings exercise class to home gym at great price
The Inspire IC1.5 Indoor Cycle is a top pick for any home gym.
Not only is it an outstanding bike at a great price, but the Inspire app allows users to take part in exercise classes at one of the best prices available anywhere.
At Home Fitness sales associate "Big" Mike Sullivan recently took the Inspire IC1.5 bike for a ride and reviewed it with high praise.
"It's a great little bike," Sullivan said. "It's available at a really affordable price on our website. You will get a better price if you come into our stores to purchase it."
More people than ever before are setting up home gyms, but it's nice to still be connected to others through virtual exercise classes.
The Inspire app allows users of any of its award-winning equipment, from home gyms, to rowers, striders and bikes, to be connected.
"It's got Bluetooth, which is nice because they do have the Inspire personal training classes on demand, as well live classes," Sullivan said. "You can use it with many different types of Inspire equipment.
"You'll be jamming on all the classes. You'll basically have a personal trainer in your house."
Store Locator
Watch the Inspire IC1.5 Indoor Cycle Review:
The Inspire app allows users to pair a mobile device through Bluetooth. You can track data, as well as join fitness classes.
Download the Inspire app and access first-class workouts from trainers, join a live class, or stream on demand. Or, follow written training programs, specifically designed for Inspire equipment.
A four-way adjustable seat and two-way handle bars let users find a comfortable position, while helping them to avoid injury. 
The adjustable resistance provides a smooth, quiet ride.
"It's belt driven, so it's really quiet and smooth," Sullivan said. "You don't have any drag or friction.
The Inspire IC1.5 Indoor Cycle weighs 74 pounds once assembled, yet supports users weighing up to 300 pounds. 
The assembled dimensions are 21 inches x 46 x 42.
A residential warranty offers 10-year protection for the frame, three years for parts and one year for labor
Sullivan invites anyone with questions on the Inspire IC1.5 Indoor Cycle or other equipment to call him at the At Home Fitness-Gilbert store (480-855-6044) or stop in and see him. The At Home Fitness-Gilbert store is located at 2810 S. Market St, Gilbert, Arizona, 85295.
Call one of At Home Fitness' superstore locations or stop in for more information:
Ahwatukee Fitness Equipment Superstore
14647 So. 50th St. located near Ahwatukee, Phoenix, Chandler, Tempe and it's the chain's closest store to Tucson.
Visit Ahwatukee
Gilbert Fitness Equipment Superstore
2810 S. Market St., located near Mesa, Apache Junction, Gold Canyon, Queen Creek, Chandler and Gilbert, to name a few.
Visit Gilbert
Scottsdale Fitness Equipment Superstore
6969 E. Shea Blvd. located near Scottsdale, Fountain Hills, Cave Creek, Anthem and many other locations in the West Valley.
Visit Scottsdale
For Commercial Sales call 888-351-6951, the Service Department can be reached at 480-940-1022 or email Support@AtHomeFitness.com.