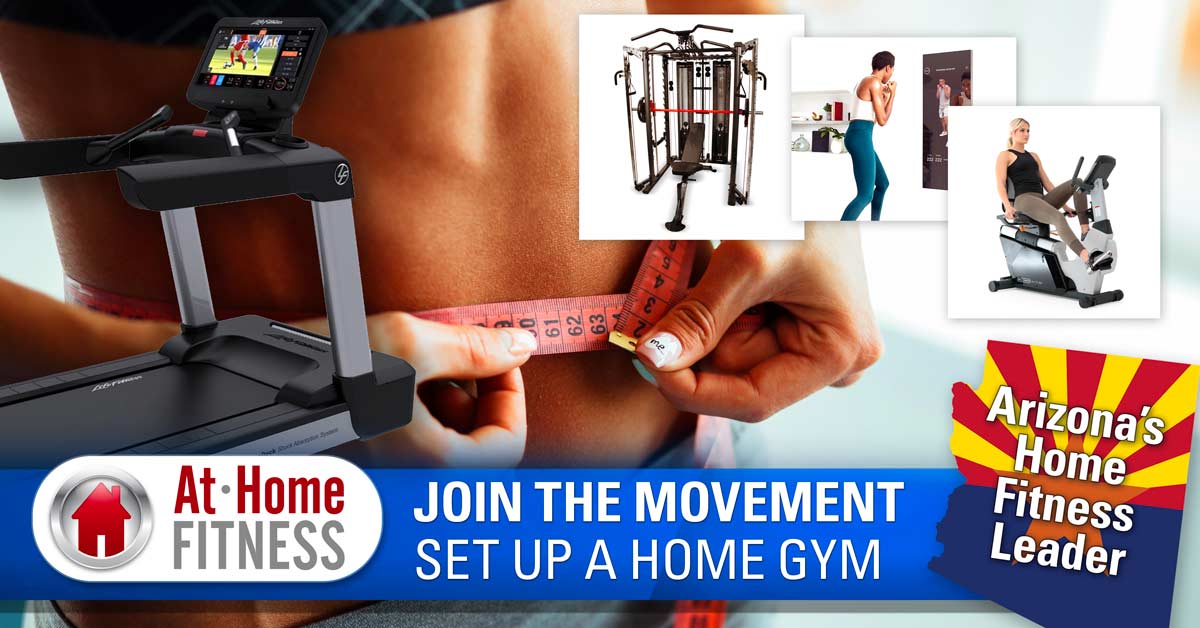 Join The Movement – Set Up A Home Gym
At Home Fitness has great deals on 3G Cardio, LifeFitness, Inspire
Editor's note: At Home Fitness is extremely proud to be able to continue helping the public during the COVID-19 pandemic to set up a home gym. They are taking special precautions in all their stores, including extra cleaning and sanitizing of all equipment, door handles, counters, etc. If you are unable to visit a store, they will be more than happy to help you select a piece of equipment over the phone. At Home Fitness can still deliver and install equipment. For more information, contact At Home Fitness through one of the methods listed in this article.
More people than ever before are purchasing specialty home fitness equipment.
It's simply the safer, more convenient and cost-efficient choice during the COVID-19 pandemic.
A Tellwut survey found that 39 percent of people will not return to public gyms, or will return less frequently when the pandemic is over.
With that in mind, the huge question is where to buy specialty fitness equipment?
The pros at At Home Fitness have you covered, no matter where you live in the U.S.
Simply stop into one of the three Arizona superstores and speak with one of the highly trained sales associates, or shop online at www.athomefitness.com. Call 1-888-940-1022 or email support@athomefitness.com for customer support.
There are At Home Fitness super stores in Ahwatukee (14647 So. 50th St.), Gilbert (2810 S. Market St.) and Scottsdale (6969 E. Shea Blvd.).
At Home Fitness has nearly 40 brands of fitness equipment to choose from.
Award-winning national brands such as 3G Cardio, LifeFitness and Inspire rank among At Home Fitness' All-Star manufacturers.
3G Cardio
3G Cardio is an Arizona-based health and fitness equipment company led by owners with more than fifty years of experience in the specialty fitness industry.
They produce award-winning vibration training machines and treadmills that are carried by fitness equipment retail stores all over the country.
The 3G Cardio company states that their experience has helped them, "Design and manufacture fitness equipment that will always outperform our clients' expectations, as well as a business model that delivers the best equipment, the best prices, and the best client service and support in the industry." 3G Cardio has received numerous "best buy" awards for the treadmills and vibration machines.
InspireFitness
Inspire Fitness is a fitness equipment manufacturer based in Corona, California and a longtime leader when it comes to exceptional quality, design and value.
Known for smooth to operate, highly durable machines, Inspire Fitness produces a wide assortment of products ranging from functional trainers, home gyms and seated ellipticals.
With models such as the Inspire Smith Ensemble, Inspire FT2 and M Series home gyms, it is no wonder they have received numerous best buy and editor choice awards.
LifeFitness
The Life Fitness roots trace back to the earliest days of the modern fitness craze with the Lifecycle in the 1970s.
Today, the Rosemont, Illinois, based company is still a leader that produces equipment with both the Health Club owner and home exerciser in mind. The Life Fitness cardio line features treadmills, exercise bikes, elliptical cross-trainers, summit trainers and stair climbers.
Build A Home Gym You'll Actually Use
If you create a successful workout room in your own home when you set up a home gym, you'll be more motivated to use it.
The enhanced safety factor of exercising in your own home gym is more valuable than ever since the COVID-19 pandemic started in early 2020.
You'll save lots of time that would have been spent driving to a gym and possibly waiting in line for equipment by working out in the comforts of your own home.
And you can set up your home gym exactly how you want it. Setting up a home gym the right way can add to your motivation to exercise.
Place your fitness equipment in a comfortable room, where you'll enjoy putting in lots of hours of exercise. If you set up a treadmill in a crowded, cluttered garage, do you really think you'll use it a lot there?
Now that could be different if it's a big garage and set up nicely for exercising, or a basement that's big enough and cleared out enough for fitness equipment.
Wherever you set up your fitness area, make sure it's conducive to working out. Try to make it as fun a room as possible to be in. Set up a stereo and/or TV. Put up pictures or posters that motivate you. It's hard enough to stay motivated for fitness the older we get, but if it's a boring room to be in that certainly won't make it any easier.
Make your fitness room a source of pride. Add equipment along the way. Maybe even give it a name. And keep working out!
At Home Fitness has treadmills, exercise bikes, elliptical machines, home gyms, vibration training machines and more, offering customers the best deals on exercise equipment in Arizona at its home fitness superstores and online at www.athomefitness.com.
All used equipment is checked and certified as top quality by At Home Fitness' highly trained service department. No other fitness retailers in Arizona have a service department that compares to At Home Fitness, which also can fix or tune-up your fitness equipment.
If you want to know where to buy or sell used fitness equipment in Phoenix, or nearby cities such as Chandler, Mesa, Glendale, Scottsdale, Ahwatukee, Gilbert and beyond, there is an At Home Fitness location near you.
At Home Fitness consultant Aaron Dorksen's blog deals with a variety of fitness topics, ranging from workout tips, motivational ideas and feature stories on how exercise impacts people's lives. Consult a doctor before making any significant changes in your exercise routine or diet. E-mail him with comments, questions or ideas for future blogs at aaron@athomefitness.com