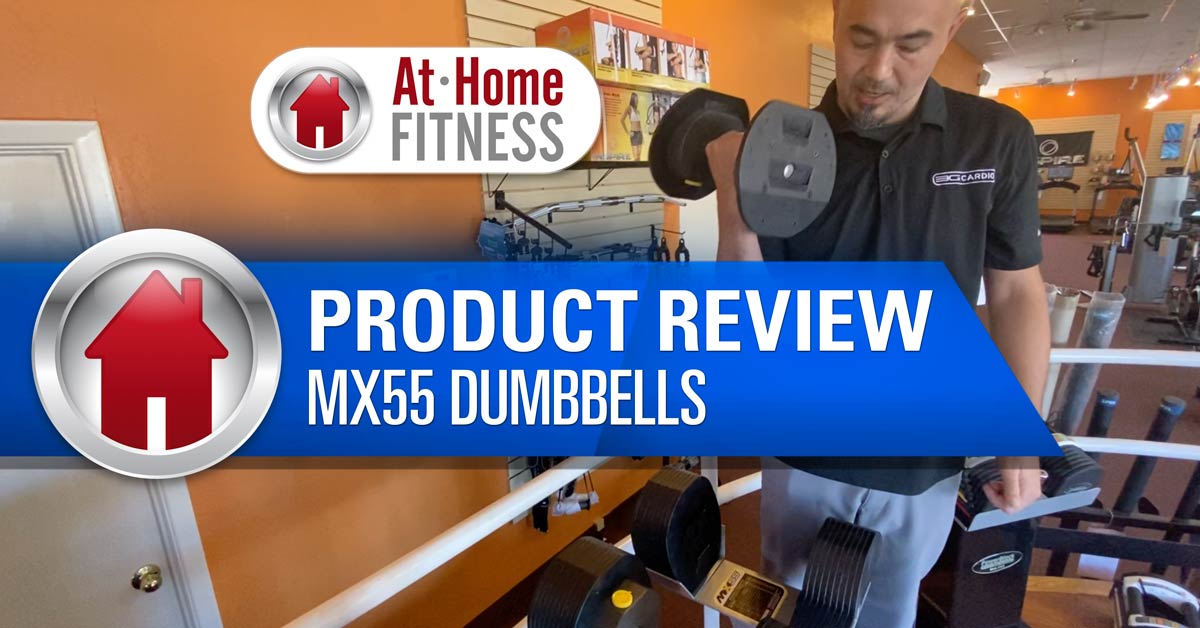 At Home Fitness Scottsdale sales associate Brian Ikegami rates MX Select MX55 Dumbbells best adjustable dumbbells
Specialty fitness manufacturers have been trying to perfect adjustable dumbbells for many years.
At Home Fitness-Scottsdale sales associate Brian Ikegami doesn't hesitate to name the best adjustable dumbbells he's come across – MX55 Dumbbells.
"Out of all the versions in the last 20 years, this is my favorite set," said Ikegami, during a YouTube review of the MX Select MX55 Adjustable Dumbbells. "They've solved all the issues of the previous sets out there."
For example, Ikegami pointed out that despite the popularity of another leading brand, some users complained that it felt like their hands were inside of a small cage when using the dumbbells.
Another different company has a good set, but when setting it for a lower weight it doesn't feel properly balanced.
Store Locator
Watch the MX55 Dumbbells Review:
"It feels like you're holding a baton," Ikegami said.
The MX55 adjustable dumbbells are just right. They feel the most like real dumbbells and even look like them.
"The MX55 adjustable dumbbells are pretty much perfect," Ikegami said. "It still feels like a dumbbell when I go light.
"It drops off the outer plate, keeping in contact with that five-pound increments throughout. … At 30 pounds (adjustment), it's just about the size of a 30-pound (standard) dumbbell."
Ikegami demonstrated how easy it is to switch sizes. Turn the dial to the corresponding weight that you want, lock it in and pull out the dumbbell.
The MX55 selectorized dumbbells are a great addition for the home gym. They offer durable features you'd expect from public gym quality, fixed dumbbells.
Select a dumbbell weight ranging from 10-55 pounds. You get the performance of a 10-piece fixed dumbbell set in one adjustable set.
The MX55's best-selling point is simply the way it feels in a person's hand.
The smooth operation of the locking rack and pinion system allows for a seamless weight transition between reps.
Unlike some other adjustable dumbbells, there are no protruding knobs or ends. The selector dials recess into the dumbbell collars after weight selection.
Contact Ikegami at At Home Fitness-Scottsdale at 480-951-6951 for up to date pricing, delivery and finance options on the MX55 dumbbells, or a wide variety of other specialty fitness equipment needs.
Scottsdale store hours are Monday-Friday 10 a.m.-7 p.m., Saturday 10 a.m.-6 p.m. or Sunday 11 a.m.-5 p.m.
As Arizona's specialty fitness leader for nearly two decades, At Home Fitness goes above and beyond to be safe. They are taking special precautions in all their stores, including extra cleaning and sanitizing of all equipment, door handles, counters, etc.
If you are unable to visit a store, they will be more than happy to help you select a piece of equipment over the phone. At Home Fitness can still deliver and install equipment. 
Whether you want the newest and best models, or certified used fitness equipment, At Home Fitness has Arizona home fitness superstores conveniently located in Scottsdale, Ahwatukee and Gilbert.
Call one of At Home Fitness' superstore locations or stop in for more information:
Ahwatukee Fitness Equipment Superstore
14647 So. 50th St. located near Ahwatukee, Phoenix, Chandler, Tempe and it's the chain's closest store to Tucson.
Visit Ahwatukee
Gilbert Fitness Equipment Superstore
2810 S. Market St., located near Mesa, Apache Junction, Gold Canyon, Queen Creek, Chandler and Gilbert, to name a few.
Visit Gilbert
Scottsdale Fitness Equipment Superstore
6969 E. Shea Blvd. located near Scottsdale, Fountain Hills, Cave Creek, Anthem and many other locations in the West Valley.
Visit Scottsdale
For Commercial Sales call 888-351-6951, the Service Department can be reached at 480-940-1022 or email Support@AtHomeFitness.com.