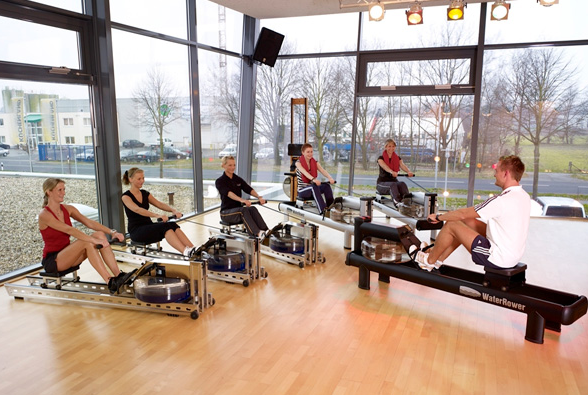 Orangetheory Fitness' Official WaterRower M1 HiRise available in Arizona at At Home Fitness
Orangetheory Fitness is sweeping the nation and its official rowing machine is the WaterRower M1 HiRise.
In explaining its workout, Orangetheoryfitness.com states: "Base. Push. All Out. Fitness, meet science. The idea of Orangetheory is this: a 60-minute workout designed to push you into the Orange Zone. This creates 'Excess Post-Exercise Oxygen Consumption,' or EPOC."
By reaching this state, individuals are able to keep burning calories even after a workout. That provides, "noticeable, lasting results," according to Orangetheory Fitness.
At Home Fitness has good news for its customers: they have the only
stores in Arizona where you can purchase the WaterRower M1 HiRise
, which is the official rowing machine of the CrossFit style workout known as Orangetheory Fitness.
The WaterRower M1 HiRise is a full commercial model with a slightly higher entry point (500mm/20") than the M1 LoRise (300mm/12").
The frame is constructed from a fabricated tubular steel.
All M series Water Rower models are equipped with standard 17-inch handles. This machine also includes: Home Training DVD, Owners Manual, Siphon Pump, Puritabs and Allen Key.
WaterRower rowing machines give you the feel of real boat rowing by using water as the resistance. The smooth mechanical design allows for a great workout with a pleasing aesthetic beauty that adds value to any home workout area.
When exercise on a Water Rower is done in conjunction with Orangetheory Fitness, the result is one of the best workouts you can get.
Backed by the science of post-exercise oxygen consumption (EPOC), the Orangetheory heart-rate monitored training, "is designed to keep heart rates in a target zone that spikes metabolism and increases energy. The result is the Orange Effect – more energy, visible toning and extra fat and calorie burn for up to 36 hours after your workout!"
Here's a list of the AHF specialty fitness equipment stores in Arizona:
* Ahwatukee, 14647 So. 50th St. located near Ahwatukee , Phoenix, Chandler, Tempe and it's the chain's closest store to Tucson.
* Desert Ridge Marketplace, 21001 N. Tatum Blvd, Phoenix, 85050 located near Phoenix, Cave Creek, Anthem, Litchfield Park, Goodyear, Fountain Hills, North Scottsdale, Prescott, Flagstaff and Sedona.
* Gilbert, 2810 S. Market St., located near Mesa, Apache Junction, Gold Canyon, Queen Creek, Chandler and Gilbert, to name a few.
* Scottsdale, 6969 E. Shea Blvd. located near Scottsdale, Fountain Hills, Cave Creek, Anthem and many other locations in the West Valley
At Home Fitness consultant Aaron Dorksen's blog deals with a variety of fitness topics, ranging from workout tips, motivational ideas and feature stories on how exercise impacts people's lives. Consult a doctor before making any significant changes in your exercise routine or diet. E-mail him with comments, questions or ideas for future blogs at aaron@athomefitness.com