Ranking fitness gift ideas for Christmas
It's never too early to start thinking about Christmas shopping. Once it gets past Thanksgiving, if you want to plan a big gift for someone i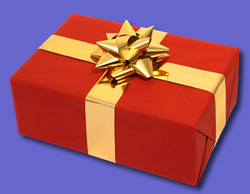 t's really time to get going.
Why not give the gift of fitness this Christmas?
Here are early five gift ideas to get you thinking, which I'll rank from 1-5 going up the level of "awesomeness." I'll start with 1 (a low-ranking elf made it) to the top of the line 5 (Santa himself had his top worker make it, and has one himself).
1 Fitness accessories – Basic gifts such as heart-rate monitors, Dr. Hoy's pain relief gel, exercise magazines and exercise mats shouldn't break your bank, but can be nice gifts to give.
2 Dumbbells, kettle bells – Costing slightly more, give the gift of dumbbells and-or kettle bells. There are countless exercises you can do with these accessories and having them in home of the person you give them to will make it easier than ever to get workouts in..
3 Running shoes, apparel – Depending on what style running shoes and how much apparel you purchase, this could cost around the price of a set of dumbbells. Or, give a gift certificate to a good local specialty running store so that someone special can pick out just what they want.
4 Vibration machine – One of the best new ways to work out that I've come across in a very long time is vibration training.
Whole Body Vibration Training (WBV), also known as Accelerated Vibration Training (AVT), stimulates the body's reflexes to result in alternating muscle contractions and relaxations.
Vibration machines can be used for many different physical benefits. Depending on the settings and way your body contacts the machine, a vibration machine can be used for stretching, improving balance, core exercises, strength training and even massage therapy.
These machines usually cost $2,500 or more for good quality ones, but they bring about amazing results and are really worth looking into. Some of the top brands are 3G Cardio, Power Plate and LifeSpan.
5 Treadmill – A top-notch treadmill probably tops my list of the top fitness gifts one could give, short of outfitting an entire home gym. Shop around when you buy a treadmill and understand that you'll get what you pay for. Good treadmills also cost $2,000 and on up, but the difference in top quality brands such as Landice, Life Fitness and Vision Fitness is easily apparent in smoothness and sturdiness.
At Home Fitness consultant Aaron Dorksen's blog deals with a variety of fitness topics, ranging from workout tips, motivational ideas and feature stories on how exercise impacts people's lives. E-mail him with comments, questions or ideas for future blogs at aaron@athomefitness.com