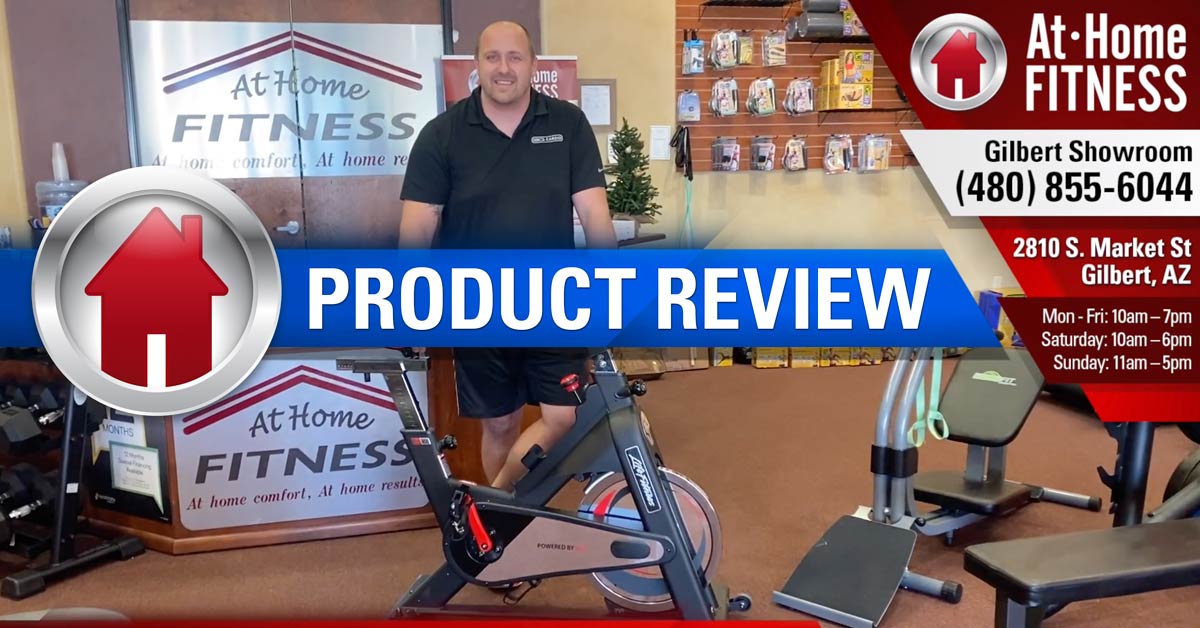 At Home Fitness' Mike Sullivan reviews Life Fitness IC1 Indoor Cycle
Life Fitness IC1 Indoor Cycle at AtHomeFitness.com
Sales associate Mike Sullivan from the At Home Fitness Gilbert store likes the Life Fitness IC1 Indoor Cycle for people who are looking for a high quality, smooth exercise bike at a highly competitive price of ($999, check stores, website for sales).
The IC1 bike has a small footprint at just 45 x 22, it weighs 112 pounds and has a 40-pound steel flywheel, Sullivan explained. It can support up to a 290-pound user.
"It has some girth to it, but it's still easily moved with (transport) wheels," Sullivan said. "It's reliable, well built and it's LifeFitness, which is a great investment."
"Overall, for an Indoor Cycle that's under $1,000 this is a great piece."
According to yourexercisebike.com, "As ICG's entry-level cycle, the IC1 offers a simplified feature-set without compromise on premium grade materials, proven engineering process and design. The IC1 is a rock-solid Indoor Cycle, suitable for high commercial use and comes with a generous warranty."
To speak with Sullivan about exercise bikes or other equipment, stop into At Home Fitness Gilbert store located at 2810 S. Market St., Gilbert, Arizona 85295, call 480-855-6044 or email mike@athomefitness.com.
People can also shop online at www.athomefitness.com.
Ahwatukee Fitness Equipment Superstore
14647 So. 50th St. located near Ahwatukee, Phoenix, Chandler, Tempe and it's the chain's closest store to Tucson.
Visit Ahwatukee
Gilbert Fitness Equipment Superstore
2810 S. Market St., located near Mesa, Apache Junction, Gold Canyon, Queen Creek, Chandler and Gilbert, to name a few.
Visit Gilbert
Scottsdale Fitness Equipment Superstore
6969 E. Shea Blvd. located near Scottsdale, Fountain Hills, Cave Creek, Anthem and many other locations in the West Valley.
Visit Scottsdale