Space saver fitness week: Torque F7 Fold Away Strength Trainer
Editor's note: This is the first in a four-part series on the best space saver fitness equipment on the marke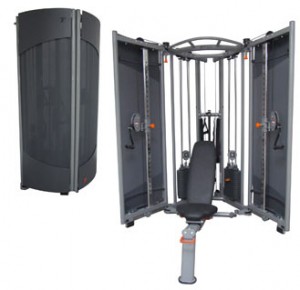 t. Today, the Torque F7 Fold Away Strength Trainer is featured.
Many people would like to have more room in their residences or work places for fitness equipment, but unfortunately that's often not possible.
However, before you totally give up on the idea of having big fitness equipment such as a treadmill, functional trainer, exercise bike or even vibration trainer machine, check out the fab four space savers I'll report on this week.
The Torque Fitness F7 Fold Away Strength Trainer (Sale price $2,599, $3,099 with bench) is a dual weight stack gym that has a fold-away footprint of just 39.5" x 39.5 inches, but opens up to a 62" x 62" fantastic functional trainer with a multitude of features.
There are two adjustable swivel pulleys – each with 30 positions – and two different widths (narrow and wide), to fit the needs of users of all sizes in performing unlimited exercises.
And because it's a functional trainer the machine can help make sure you do the exercises correctly. A docking station for optional flat-to-incline bench automatically aligns exercisers in the correct position, and the multi-use chin/press assist strap enables users of all skill levels to perform exercises.
You can do everything from bench presses to curls and triceps, to lunges and squats on this machine.
When you're done, the cable columns, bench, and optional exercise balls or training accessories all can be hidden away inside the attractive closing doors.
The Torque Fitness F7 Fold Away Strength Trainer is equipped with several standard accessories, plus there's an optional bench that can be purchased. The F7 provides the most functional variety for training today for all levels of exercisers.
If you are short on space, but not short on motivation to exercise the Torque Fitness F7 Fold Away Strength Trainer is a must-see.
At Home Fitness consultant Aaron Dorksen's blog deals with a variety of fitness topics, ranging from workout tips, motivational ideas and feature stories on how exercise impacts people's lives. E-mail him with comments, questions or ideas for future blogs at aaron@athomefitness.com