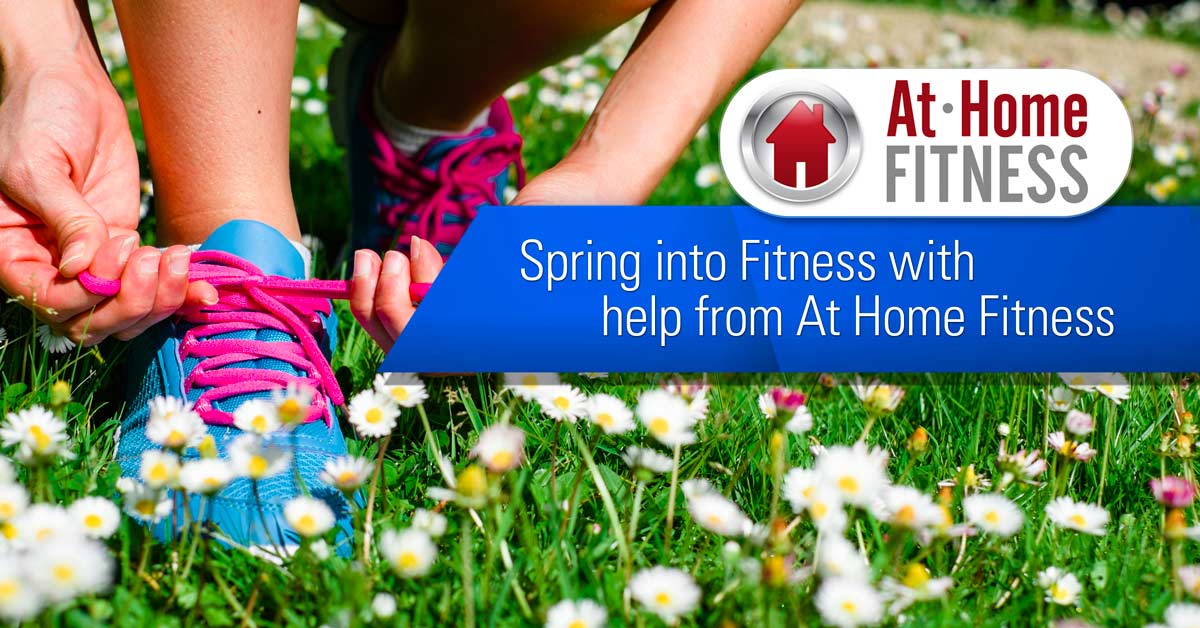 Spring into Fitness with help from At Home Fitness
Spring brings warmer weather, as well as new beginnings.
At Home Fitness is here to help people shake off the winter rust and harness the fresh energy of spring.
If you want to spring into fitness, let Arizona's No. 1 specialty fitness retailer help.
At Home Fitness is here to help you get fit, both in its Arizona superstores and online support at www.athomefitness.com.
Whether you want the newest and best models, or certified used fitness equipment, At Home Fitness has Arizona home fitness superstores conveniently located in Scottsdale, Ahwatukee and Gilbert.
At Home Fitness sells award-winning brands such as 3G Cardio, Bladez Fitness, Body Solid, Bodycraft, Bodyguard, BH Fitness, Cybex, Dr. Hoys, ElliptiGO, GoFit, Inspire Fitness; Landice, Life Fitness, LifeCore Fitness, Nexersys, Nautilus, Octane Fitness, Power Plate, PowerBlock, Spri, Stairmaster, Torque Fitness, VectraFitness.
At Home Fitness has treadmills, exercise bikes, elliptical machines, home gyms, vibration training machines and more, offering customers the best deals on exercise equipment in Arizona at its home fitness superstores and online at www.athomefitness.com.
Store Locator
Watch our Fitness Equipment Reviews:
Stop into one of At Home Fitness' superstores in Arizona and talk to a highly trained sales associate to find out which equipment would be best for you.
It doesn't matter if you bought your exercise equipment from At Home Fitness, or somewhere else, the AHF service team can make sure your machine is running at optimum performance level.
AHF services most brands of personal and commercial equipment. For service or repairs on treadmills, elliptical machines, exercise bikes, home gyms or other fitness equipment, contact At Home Fitness.
SPRING FITNESS TIPS
Here are five tips to shake off the winter blahs and start fresh this spring:
Assess your diet – How is your diet? Be honest with yourself and evaluate if some changes can or should be made. Cut down on eating fast food, eat smaller portions, absolutely quit smoking, try to limit alcohol consumption, eat more fruits and vegetables and drink more water.
Get regular exercise – Plan time into your schedule to exercise at least three times a week. Don't overdo it, especially early on. The body will be sore and you need time to recover. Regularly get cardio workouts, such as brisk walking outside or on a treadmill and-or elliptical machine
Keep a fitness log – This will help you chart progress, keep track of goals and stay motivated.
Find a workout partner – Find a friend to work out with. It will help you both push each other and make the workouts more interesting.
Soak up the sun – Take advantage of the nice weather by getting outside to exercise, whether it's setting up your weights outside, biking, hiking, or anything else that will get you moving and burning calories. Make sure to wear sunscreen, though.
Call one of At Home Fitness' superstore locations or stop in for more information:
Ahwatukee Fitness Equipment Superstore
14647 So. 50th St. located near Ahwatukee, Phoenix, Chandler, Tempe and it's the chain's closest store to Tucson.
Visit Ahwatukee
Gilbert Fitness Equipment Superstore
2810 S. Market St., located near Mesa, Apache Junction, Gold Canyon, Queen Creek, Chandler and Gilbert, to name a few.
Visit Gilbert
Scottsdale Fitness Equipment Superstore
6969 E. Shea Blvd. located near Scottsdale, Fountain Hills, Cave Creek, Anthem and many other locations in the West Valley.
Visit Scottsdale
For Commercial Sales call 888-351-6951, the Service Department can be reached at 480-940-1022 or email Support@AtHomeFitness.com.