Vegas Trade Show: Exercise technology catches up with the times
This is the first in a five-part series on the recently held Las Vegas Fitness Trade Show. Today, an overview of the show is provided.
The At Home Fitness team was well represented at the 2012 Health and Fitness Expo & Business Trade Show held Sept. 19-21 at the Sands Expo & Convention Center in Las Vegas.
The No. 1 fitness show in the country annually has the top dealers, manufacturers and experts in the industry come together for a week that will shape the coming year.
The newest trends, products and information are always on display at the Las Vegas fitness show, which is why it's one of the most important dates of the year on the At Home Fitness team's calendar.
So what did At Home Fitness come away with from this year's show?
"One of the new things we saw is that manufacturers have come up with many new products that make great use of existing electronics people have, such as laptop computers and iPhones," said At Home Fitness co-owner Bryan Dorksen. "There are several unique new products that allow you to use your own electronics with their products."
Examples of this are the Lifespan TR1200-DT Treadmill Desk (MSRP $1,999, sale $1,299), 3G Cardio 80i Fold Flat Treadmill (MSRP $2,099) and several treadmills by Bodyguard Fitness.
All of the above treadmills offer hookups for iPhones, while the Lifespan and 3G Cardio machines are even set up with treadmill desks to easily and conveniently use your laptop computers while walking on them.
"These are great examples of incorporating exercise into the workplace," Dorksen said. "Exercise technology is catc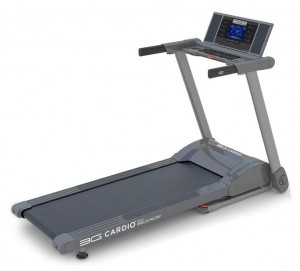 hing up with the times."
I've reported in the past on studies that show standing for longer periods of time is very beneficial for your health and the growing trend is for people to try to find ways to accomplish this.
What makes better sense than a treadmill desk? It allows you to truly mix business with pleasure, or at the very least business with exercise if you don't especially like to work out.
At Home Fitness consultant Aaron Dorksen's blog deals with a variety of fitness topics, ranging from workout tips, motivational ideas and feature stories on how exercise impacts people's lives. E-mail him with comments, questions or ideas for future blogs at aaron@athomefitness.com