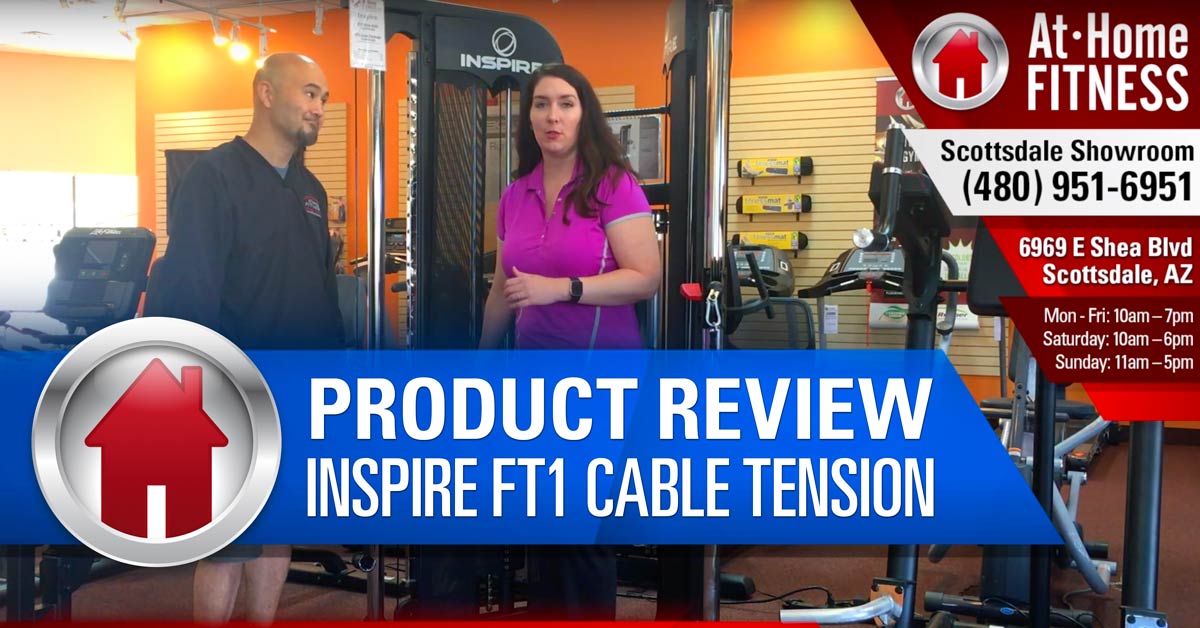 Sales reps from At Home Fitness Scottsdale store offer tips to adjust Inspire FT1 Cable Tension
There are many reasons why At Home Fitness is Arizona's leader for sales of specialty fitness equipment.
One of the big reasons is At Home Fitness' continued commitment to helping customers after the sale.
Sales reps know the products better than just about anyone and are there for customers to answer questions, or refer them to the AHF certified repair center.
Jamie and Brian recently posted a YouTube video instructing people how to adjust the cable tension on the popular Inspire FT1 functional trainer.
It's common for a home gym, treadmill or other equipment to occasionally need adjustments.
If the tension on the Inspire FT1 weight stack gets too tight, and it's difficult to get the pin in or out to adjust the weights, there are some easy steps to fix it.
Jamie instructed users to slide the top plate up several notches and insert the pin into a lower weight to take some of the pressure off and allow room to work.
Next, Brian demonstrated how to take the pulley off and loosen the lock nut to relax the tension the right amount. Often, just 1 or 1.5 millimeters make the difference. There's also a smaller bolt than can adjust tension with ease.
To speak with Jamie or Brian about functional trainers or other equipment, stop into the At Home Fitness Scottsdale store located at 6969 E. Shea Blvd, Scottsdale, Arizona 85254, call 480-951-6951.
People can also shop online at www.athomefitness.com
Ahwatukee Fitness Equipment Superstore
14647 So. 50th St. located near Ahwatukee, Phoenix, Chandler, Tempe and it's the chain's closest store to Tucson.
Visit Ahwatukee
Gilbert Fitness Equipment Superstore
2810 S. Market St., located near Mesa, Apache Junction, Gold Canyon, Queen Creek, Chandler and Gilbert, to name a few.
Visit Gilbert
Scottsdale Fitness Equipment Superstore
6969 E. Shea Blvd. located near Scottsdale, Fountain Hills, Cave Creek, Anthem and many other locations in the West Valley.
Visit Scottsdale