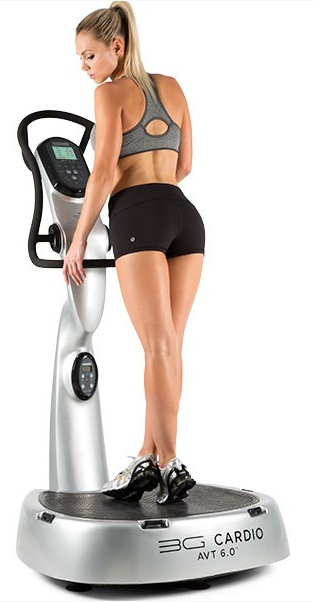 At Home Fitness has commercial grade vibration machines in Arizona
Vibration training has been called the fastest growing segment of the fitness industry since the elliptical machine.
If you are shopping for a commercial grade vibration machine in Arizona, make sure to visit the pros at At Home Fitness for great selection and prices. Or, also consider shopping online at www.athomefitness.com.
For club quality vibration machines in Phoenix, Scottsdale, Chandler, Scottsdale and many more locations in Arizona, turn to At Home Fitness. They have high-end vibration machines that would be the key addition for a personal training studio, physical therapy office, chiropractor office, home owners association gym, or wherever else you might require high-grade workout equipment.
We've often heard the saying, "If it sounds too good to be true, it probably is." However, with quality vibration machines more and more people are saying the machine is really as good as advertised.
By standing on what looks like a big plate or oversized doctor's scale and getting a complete workout through vibrations in 15 minutes or less, vibration machines can give people of all ages and fitness levels outstanding results.
How does it work? Power Plate explains: "The machine creates instability in the human body, as with each vibration the body is forced to perform reflexive muscle actions, multiple times per second. … The net result is an incredible improvement in force production, or strength and power."
Basically, people are able to "optimally load" their frame while minimizing high impact, high load, and high stress factors. By using gravity, vibration machines make the body feel as though it "weighs" more every time acceleration forces increase.
Vibration training users perform static exercises (such as a holding a squat or pushup position) or dynamic movements (performing a full squat or pushup), which are enhanced incredibly while done on the vibration machine.
Here are two commercial grade vibration machines that really stand out among the At Home Fitness inventory:
3G Cardio 6.0 Vibration Training Machine (MSRP $4,999, AHF sale price $4,499) — The 3G Cardio® AVT™ 6.0 Vibration Machine offers the quality, durability, and performance necessary to challenge even the most advanced athlete. NFL and college athletes train with 3G Cardio vibration machines. The 3G Cardio 6.0 has won multiple Best Buy awards for vibration training machines and is priced for $1,000s less than comparable models.
However, it can also benefit everyone from the average couple next door to senior citizens. Built for any type of commercial environment, but at a price point comparable to other vibration plates made only for home use, the 3G Cardio® AVT™ 6.0 will blow away the competition on features and overall value. It features a 34" x 28" vibration platform with a machine weight of 267 pounds, maximum user capacity of 500 pounds and 30-50 Hz capability.
Power Plate my7™ (AHF sale price $7,299, save $500) – The my7™ is one of the top-ranked vibration training machines in the world. It has more than 250 customized programs and 1,000 individual exercises to choose from. They combine to give a user more than a million different exercise combinations.
In addition to its Advanced Vibration Technology™, the my7 is highlighted by an integrated touch screen computer complete with over 1,000 exercise videos and coaching tips to guide you. It's like having your own personal trainer on the video screen.
From advanced athletes, to weekend warriors and even senior citizens trying to maintain or improve bone health, the 3G Cardio 6.0 and Power Plate my7™ have a workout that can help them. The vibrations can stimulate muscle responses as frequently as 30 to 40 times per second as someone progresses through a workout.
Call At Home Fitness commercial sales director Greg Feeder at 602-910-5006 for more information on these and more high-end specialty fitness equipment available.
At Home Fitness consultant Aaron Dorksen's blog deals with a variety of fitness topics, ranging from workout tips, motivational ideas and feature stories on how exercise impacts people's lives. Consult a doctor before making any significant changes in your exercise routine or diet. E-mail him with comments, questions or ideas for future blogs at aaron@athomefitness.com