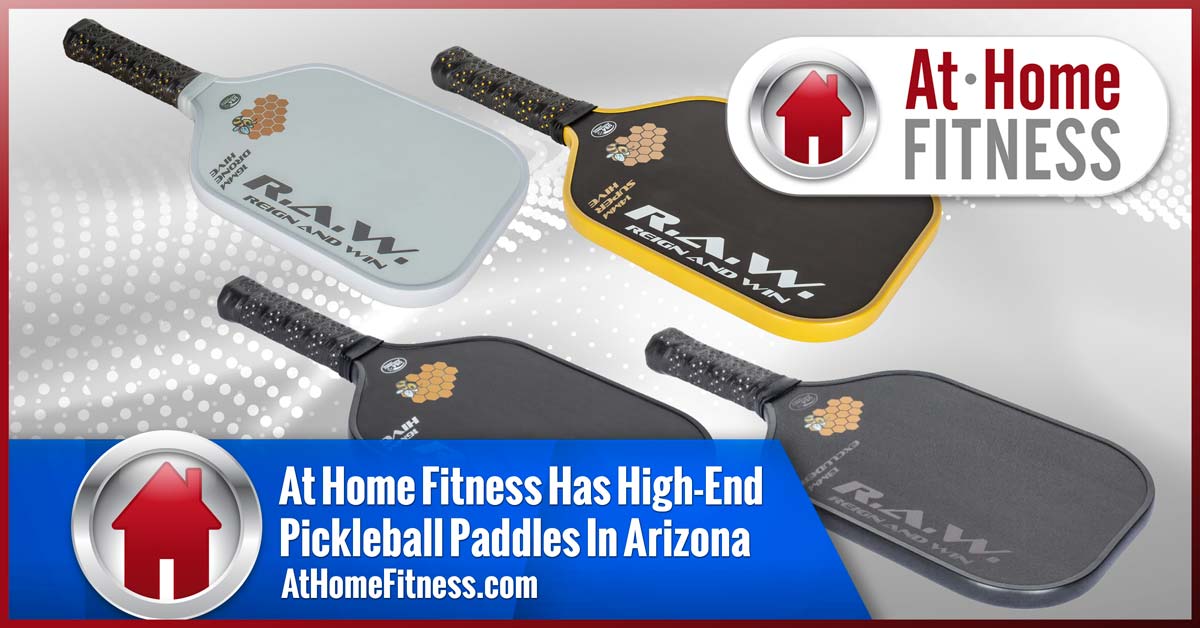 At Home Fitness Has High-End Pickleball Paddles In Arizona
At Home Fitness is best place in Arizona to buy high-end pickleball equipment
Are you an avid pickleball player looking for the perfect paddle? Or, are you just learning the quickly growing sport?
At Home Fitness is the place to go in Arizona to buy high-end pickleball paddles and balls.
The R.A.W. Reign and Win line of pickleball paddles are some of the best equipment available on the market.
Stop in and learn more about R.A.W. Reign and Win line of pickleball paddles and balls at At Home Fitness superstores, which are conveniently located in Scottsdale, Ahwatukee and Gilbert.
At Home Fitness has treadmills, exercise bikes, elliptical machines, home gyms, vibration training machines and has now entered the pickleball world, offering customers the best deals on equipment in Arizona at its home fitness superstores and online at www.athomefitness.com.
The At Home Fitness chain is Arizona's biggest and best for fitness sales AND service, with 20 years of experience. The superstores offers Arizona's best inventory, extremely competitive rates and the best service department around.
Why is pickleball popular?
Pickleball is a fast-paced game that combines aspects of tennis, badminton and ping-pong. It can be played as doubles or singles and is easy to learn. It requires minimal equipment, which makes it affordable and accessible for all ages and skill levels.
According to USApickleball.com, pickleball is fun, social and friendly! Although the rules are simple and the game is easy for beginners to learn, it can develop into a fast-paced, highly competitive game.
Pickleball can be played both indoors or outdoors on a badminton-sized court and a slightly modified tennis net.
It's played with a paddle and a plastic ball with holes.
It can be played as doubles or singles.
It can be enjoyed by all ages and skill levels
Pickleball Invented near Seattle
Pickleball proudly originated in 1965 on Bainbridge Island, a short ferry ride from Seattle, Washington. The masterminds behind this game were three fathers – Joel Pritchard, Bill Bell and Barney McCallum – who wanted to give their children something fun to do during the summer months. This ingenious idea has captivated enthusiasts ever since!
Pickleball, once a simple game accompanied with homemade equipment and straightforward regulations, has boomed into an increasingly popular trend in both the USA and Canada. This sport is also thriving internationally as many European and Asian countries are establishing courts for this entertaining pastime.
Chances are there's a tennis court in your community that's been converted into a Pickleball court.
Get the best rackets at At Home Fitness
At Home Fitness Has High-End Pickleball Paddles In Arizona you need to get started in this growing sport.
Stop by one of our locations today and let us help you find the perfect pickleball paddle and top quality balls!
With the R.A.W. Reign and Win line of pickleball paddles, you'll be ready to take your game to the next level!
So why wait? Stop in one of our superstores or shop online and find the perfect pickleball racket today!
With At Home Fitness, you can be sure to find the best selection of equipment at unbeatable prices. Get ready for an amazing game of pickleball with the R.A.W. Reign and Win line of paddles from At Home Fitness.
View All PickleBall Rackets
Come see our incredible Fitness Equipment Showrooms today!