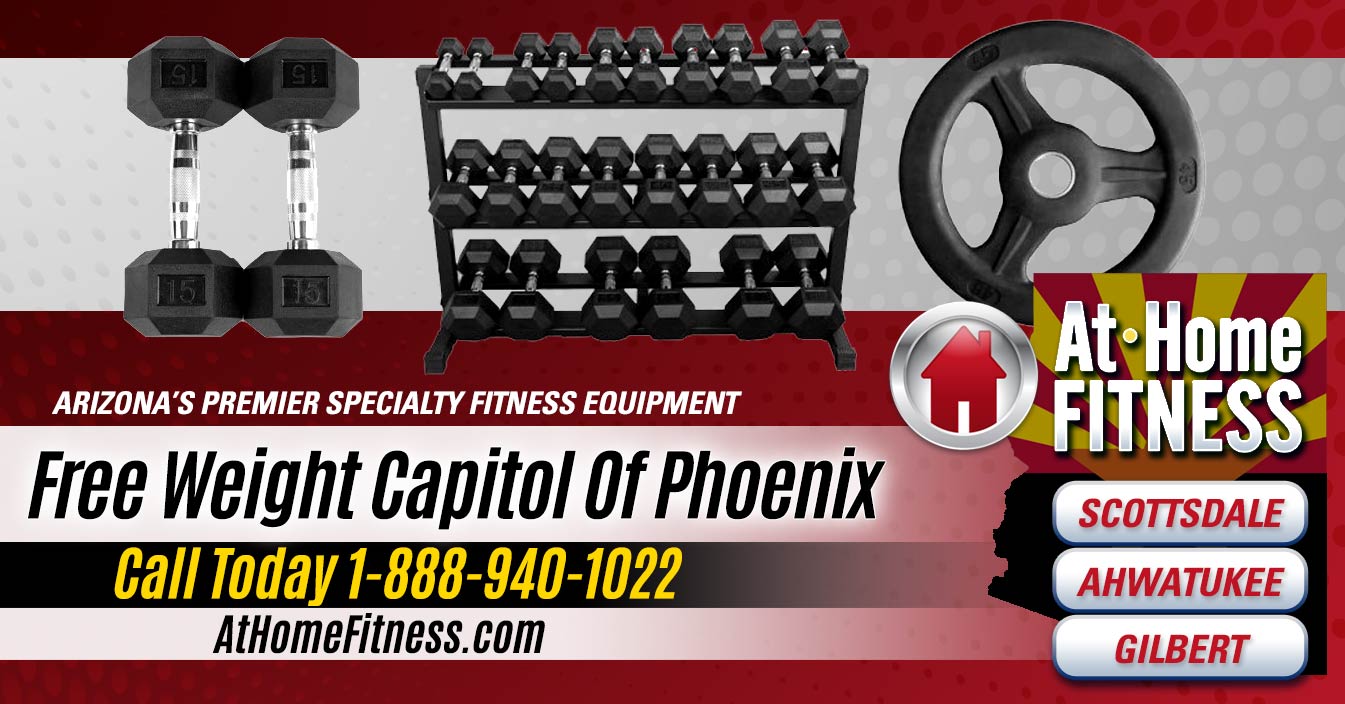 At Home Fitness Is Arizona's Home For Free Weights
They're here!!!
The At Home Fitness superstores located in Arizona have just received a huge shipment of free weights.
At Home Fitness is truly Arizona's home for free weights!
That makes At Home Fitness the Free Weight capitol of Arizona.
At Home Fitness already had an outstanding inventory of free weights for dumbbells, barbells, weight plates and benches. We know free weights have become more and more popular in recent years so we've upped our game!
Consider At Home Fitness as your one-stop shop for all of your free weight needs.
We offer an extensive selection of free weights, from dumbbells and barbells, to kettlebells and plates.
Our knowledgeable staff can help you find the right type of weight that best suits your fitness goals. Plus, our prices are competitively priced to ensure that you get the best value for your money.
Now's the time to restock your gym with top-of-the line equipment from AHF Ahwatukee!
Located at 14647 So. 50th St., Phoenix, AZ 85044 and ready to serve you via phone (480-940-1022), our superstore just placed our biggest order ever for free weights – making it The Valley's go-to destination for fitness enthusiasts of all levels. Discover why customers are raving about AHF Ahwatukee today!
At Home Fitness Ahwatukee boasts a 15,000-square foot showroom with a vast selection of Rubber Hex Dumbbells, Rubber Olympic Plates, Power Blocks and Benches – all offered at competitive prices. Plus the store is conveniently situated on the I-10 freeway in between Chandler Blvd. and Ray Rd., easily accessible to Phoenix locals as well as those from nearby cities like Chandler , Tempe or Tucson. So come by today for your free weight needs!
Free Weight Showrooms »
At Home Fitness is proud to also offer the following superstore locations in addition to AHF Ahwatukee in Phoenix:
* At Home Fitness Gilbert Superstore – 2810 S. Market St., Gilbert, AZ 85295 (480-855-6044). It's located near Creative Leather and Costco.
The AHF-Gilbert store is a retail-sized location near Mesa, Apache Junction, Gold Canyon, Queen Creek, Chandler and Gilbert, to name a few.
* At Home Fitness Scottsdale – 6969 E. Shea Blvd, Scottsdale, AZ 85254 (480-951-6951). AHF-Scottsdale has a 7,000-square foot showroom and is on the corner of 70th and Shea.
At Home Fitness-Scottsdale is located near Fountain Hills, Cave Creek, Anthem and many other locations in the West Valley.
* For At Home Fitness Commercial Sales call 888-351-6951, while the Service Department can be reached at 480-940-1022 or email Support@AtHomeFitness.com.
At Home Fitness also offers a wide range of accessories and equipment to help you train more effectively. From weight benches and racks, to pull up bars and resistance bands, we have all the tools you need to make your workout session as successful as possible.
Whether you're looking for classic free weights or modern functional training tools, At Home Fitness has you covered.
Finally, our knowledgeable staff is available to answer any of your questions and offer advice on how to use the equipment correctly and safely. We want to make sure that you get the most out of your free weight routine, so don't hesitate to ask us for help! Visit At Home Fitness today to find the perfect free weights for your fitness journey.
We look forward to helping you reach your health and fitness goals! Get fit with At Home Fitness, Arizona's home for free weights.
Come in today and let us help you reach your fitness goals!
Visit our Showrooms
Come see our incredible Fitness Equipment Showrooms today!