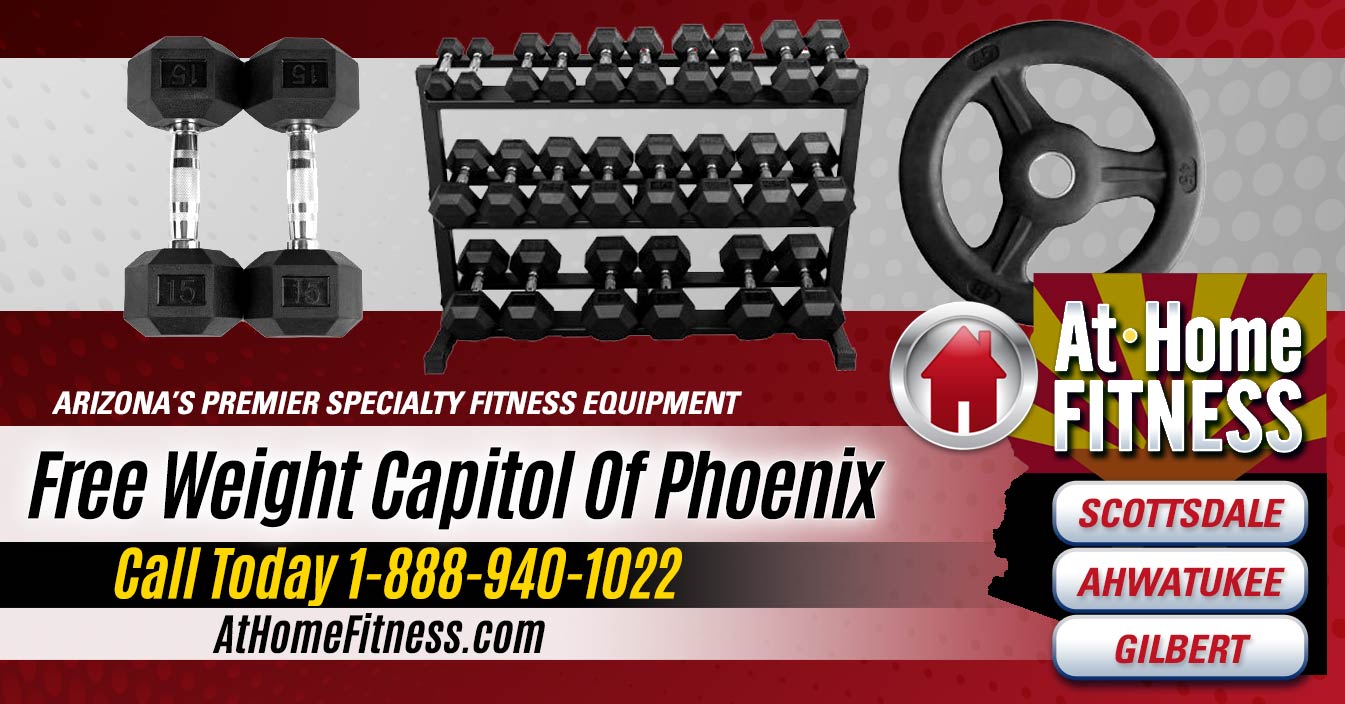 At Home Fitness store adds new claim to fame: "Free weight capitol of Phoenix!"
Since opening in 2004, At Home Fitness has become Arizona's leader for selling and servicing specialty fitness equipment.
No one can match AHF's combination of selection, prices, expertise and customer service.
At Home Fitness is the best place in Arizona to shop for treadmills, exercise bikes, elliptical machines, home gyms, vibration training machines and more. You can also shop online at www.athomefitness.com.
Now, At Home Fitness can add a new claim to fame: "Free weight capitol of Phoenix!"
AHF Ahwatukee sells, buys and services workout equipment and is conveniently located at 14647 So. 50th St., Phoenix, AZ 85044. Call 480-940-1022 for more information.
The AHF-Ahwatukee Superstore put in its biggest order ever for free weights and is the best place to shop for fitness equipment in The Valley.
You name it – from Rubber Hex Dumbbells, to Rubber Olympic Plates, Power Blocks and Benches – At Home Fitness has a huge supply of free weights that are competitively priced in its 15,000-square foot Phoenix showroom.
The Ahwatukee store is located on the I-10 freeway between Chandler Blvd. and Ray Rd. At Home Fitness Ahwatukee is conveniently located near Phoenix, Chandler, Tempe and it's the chain's closest store to Tucson.
If you live in cities like Tucson, Maricopa, Florence, Green Valley, Casa Grande or Yuma, then At Home Fitness Ahwatukee is well worth the drive. Located on the outskirts of Phoenix, you won't fight the city traffic.
The At Home Fitness Ahwatukee store is just a short drive away from the Arizona Cardinals Training Facility in Tempe.
Free Weight Capitol Of Phoenix – AtHomeFitness.com
It seems like all we hear about treadmills, ellipticals and exercise bikes more and more often when it comes to fitness, but free weights are a must-have for any workout plan.
According to webMD, "Free weights force you to use your muscles in a way that stabilizes movement. This helps you build strength, power, and coordination in one motion. They are also versatile because you can use them in a variety of settings and ways."
The At Home Fitness consultants know how to help customers choose the right piece of exercise equipment based on budget, fitness needs, room size and many other factors.
The goal is always to create an exceptional in-store experience for each client based on their very specific needs.
At Home Fitness is proud to also offer the following superstore locations in addition to AHF Ahwatukee in Phoenix:
* At Home Fitness Gilbert Superstore – 2810 S. Market St., Gilbert, AZ 85295 (480-855-6044). It's located near Creative Leather and Costco.
The AHF-Gilbert store is a retail-sized location near Mesa, Apache Junction, Gold Canyon, Queen Creek, Chandler and Gilbert, to name a few.
* At Home Fitness Scottsdale – 6969 E. Shea Blvd, Scottsdale, AZ 85254 (480-951-6951). AHF-Scottsdale has a 7,000-square foot showroom and is on the corner of 70th and Shea.
At Home Fitness-Scottsdale is located near Fountain Hills, Cave Creek, Anthem and many other locations in the West Valley.
* For At Home Fitness Commercial Sales call 888-351-6951, while the Service Department can be reached at 480-940-1022 or email Support@AtHomeFitness.com.
Come see our incredible Fitness Equipment Showrooms today!