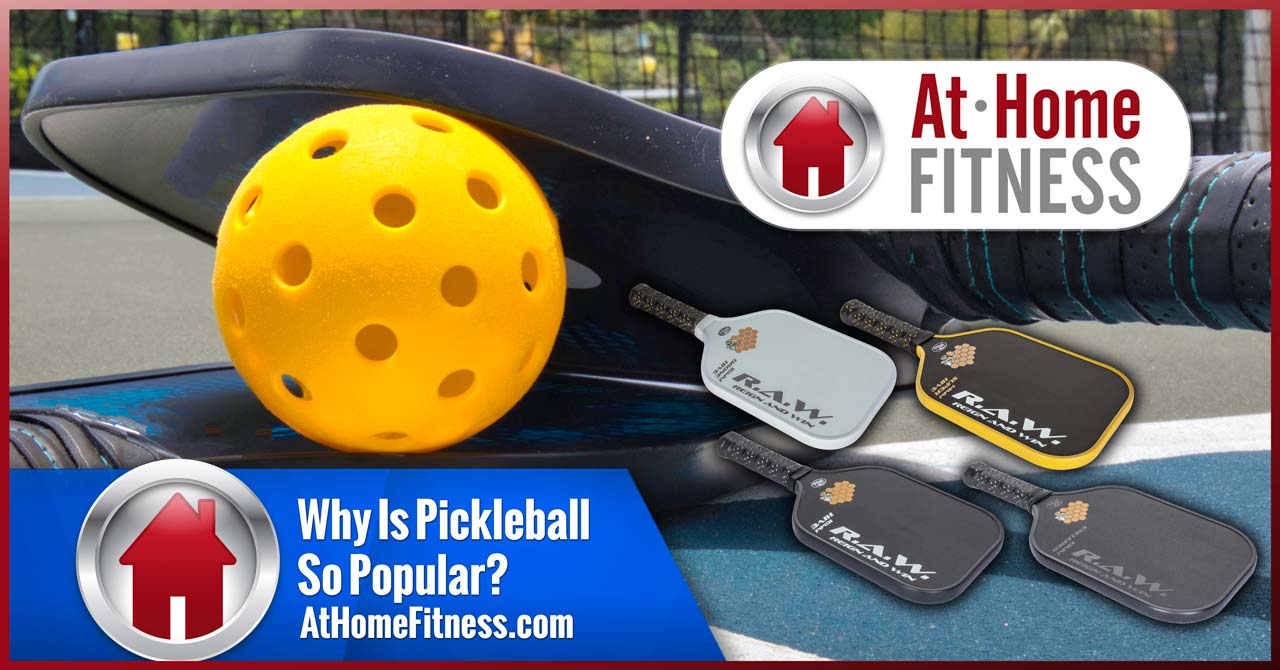 Why is pickleball so popular?
At Home Fitness in Arizona is place to buy high-end pickleball paddles
It would be hard to imagine too many people out there who haven't at least heard of pickleball.
It's been called the fastest growing sport in the U.S. The pickleball population explosion is here!
The Association of Pickleball Professionals recently released a report to CNBC revealing an explosive growth in the game's popularity – from 5 million players in 2021, to over 36.5 million pickleball fans across the United States by August 2022! This remarkable surge cements its status as one of America's most beloved sports and is sure to bring more excitement for years to come.
The 2023 APP Pickleball Participation report, conducted by YouGov, revealed that 14% of Americans had played pickleball at least once over the course of 12 months. Even more impressive is the statistic that 8.5 million people took to the court eight or more times!
"When you look at participation rates alongside golf, and basketball and tennis. … I don't think anybody would have thought a year ago that pickleball would be right up there with those more traditional sports," said Tom Webb to MSNBC, chief marketing officer of the Association of Pickleball Professionals, the group that represents professional, recreational and amateur players.
Recently, prominent athletes such as LeBron James and Tom Brady to Kevin Durant and Patrick Mahomes have gotten involved in pickleball by investing in pro teams. What started out with one foot through the door has become an extremely sought-after sports investment opportunity since it is possible to own a team for around seven figures. As more big names join the sport, star power continues to draw attention that keeps pickleball at the top of everyone's list!
Pickleball is seeing a resurgence of popularity, and it's no surprise to see major sponsor names like Holland America, Anheuser-Busch, Skechers and Carvana hopping on board. It appears that the sport has shifted from tennis court dominance as investors are pouring in money for new pickleball courts across the nation.
With the growing popularity of Pickleball, Major League Pickleball and the Professional Pickleball Association have decided to join forces with Life Time in order to host several tournaments nationwide this year.
BUY PICKLEBALL PADDLES IN ARIZONA AT AT HOME FITNESS
If you're looking for top-notch pickleball paddles and balls, then At Home Fitness is the premier shopping destination in Arizona.
At Home Fitness superstores in Arizona have top-of-the-line pickleball paddles from the R.A.W. Reign and Win line of equipment! Every detail is crafted to perfection – from superior balance to perfect weight distribution; this paddle will take your game to the next level in style!
Stop in and learn more about R.A.W. Reign and Win line of pickleball paddles and balls at At Home Fitness superstores, which are conveniently located in Scottsdale, Ahwatukee and Gilbert. The Scottsdale and Gilbert (San Tan Village) stores have R.A.W. Hive and Super Hive paddles.
At Home Fitness has treadmills, exercise bikes, elliptical machines, home gyms, vibration training machines and has now entered the pickleball world, offering customers the best deals on equipment in Arizona at its home fitness superstores and online at www.athomefitness.com.
For two decades, At Home Fitness has been Arizona's premier go-to for all of your fitness needs. With unbeatable prices and an unparalleled selection of top products, the superstores offer not only the best inventory but also are home to some of the most experienced customer service representatives in AZ!
In 1965, three fathers from Bainbridge Island, Washington sought to craft an exciting diversion for their children. Thus was born Pickleball; a captivating combination of tennis, badminton and ping pong!
In the last few years, pickleball has become incredibly popular among baby boomers. The Villages in Florida now boasts an impressive 220+ courts specially dedicated to this sport, MSNBC reported.
As the coronavirus brought an abrupt halt to traditional team sports, Pickleball suddenly skyrocketed in popularity. The outdoor paddle sport provided a safe and socially-distanced way for people to stay active and enjoy being outdoors during these unprecedented times.
The meteoric success of pickleball is due to several aspects, including its straightforwardness, low financial burden for participation and interactive nature. With a few simple tutorials, individuals can quickly grasp the game and take part in tournaments at any capacity they desire.
Compared to other sports, such as tennis and golf, the cost of entry for pickleball is notably more budget-friendly. A good quality paddle can be found at a fraction of the price – ranging from $100 – $200 dollars – without requiring an expensive country club membership.
Pickleball is a great way for people of all ages to get together, socialize and make new friends. The sport has been embraced by the older generations but more young players are starting to join in on the fun as well!
View All PickleBall Rackets
Come see our incredible Fitness Equipment Showrooms today!