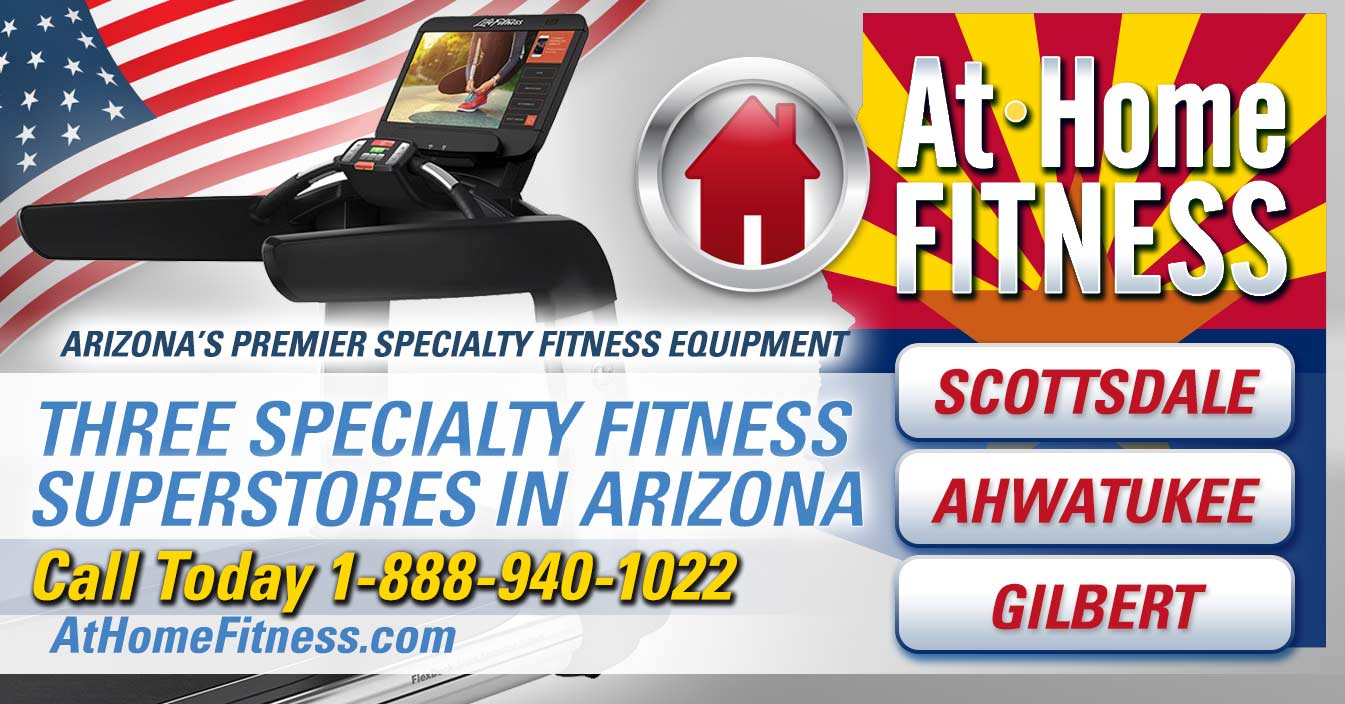 At Home Fitness has three specialty fitness superstores in Arizona
Ahwatukee, Gilbert, Scottsdale are convenient locations to buy, sell, service workout equipment
North or South, East or West in Arizona, At Home Fitness is the best place to buy fitness equipment in Arizona.  
At Home Fitness is your one-stop shop to not only buy equipment, but also sell used equipment, have equipment repaired, tuned up, moved or stored. We have our own in-house service and delivery team.
At Home Fitness is proud to offer the following superstore locations:
* At Home Fitness Ahwatukee Superstore – 14647 So. 50th St., Phoenix, AZ 85044 (480-940-1022. This store features a must-see 15,000-square showroom. The Ahwatukee store is located on the I-10 freeway between Chandler Blvd. and Ray Rd.
At Home Fitness-Ahwatukee is conveniently located near Phoenix, Chandler, Tempe and it's the chain's closest store to Tucson.
* At Home Fitness Gilbert Superstore – 2810 S. Market St., Gilbert, AZ 85295 (480-855-6044). It's located near Creative Leather and Costco.
The AHF-Gilbert store is a retail-sized location near Mesa, Apache Junction, Gold Canyon, Queen Creek, Chandler and Gilbert, to name a few.
* At Home Fitness Scottsdale – 6969 E. Shea Blvd, Scottsdale, AZ 85254 (480-951-6951). AHF-Scottsdale has a 7,000-square foot showroom and is on the corner of 70th and Shea.
At Home Fitness-Scottsdale is located near Fountain Hills, Cave Creek, Anthem and many other locations in the West Valley.
* For At Home Fitness Commercial Sales call 888-351-6951, while the Service Department can be reached at 480-940-1022 or email Support@AtHomeFitness.com.
Specialty Fitness Superstores in Arizona — Hours are as follows:
Monday-Friday: 10 a.m. – 7 p.m.
Saturday: 10 a.m. – 6 p.m.
Sunday: 11 a.m. – 5 p.m.
At Home Fitness has the state's best selection, expertise and deals on specialty fitness equipment.
The co-owners and highly trained sales associates strive every day to offer customers the best selection, prices, expertise and customer service in the industry.
Customers are treated like family. They have come to expect and appreciate honest recommendations, great prices, high-quality products and superior customer service.
At Home Fitness has been Arizona's leader in specialty exercise equipment since soon after opening in 2004 because no one can match its combination of selection, prices, expertise and customer service.
At Home Fitness has treadmills, exercise bikes, elliptical machines, home gyms, vibration training machines and more, offering customers the best deals on exercise equipment in Arizona at its superstores and online at www.athomefitness.com.
Exercise equipment for people of all ages and fitness backgrounds can be found at At Home Fitness.
At Home Fitness buys, sells, trades and even accepts equipment on consignment. If you want to find out what the fair-market value is for your fitness equipment come in and see the experts at At Home Fitness. Give AHF a call or email support@athomefitness.com.
All used equipment is checked and certified as top quality by At Home Fitness' highly trained service department.
No other fitness retailers in Arizona have a service department that compares to At Home Fitness, which also can fix or tune-up your fitness equipment.
If you want to know where to buy or sell used fitness equipment in Phoenix, or nearby cities such as Chandler, Mesa, Glendale, Scottsdale, Desert Ridge, Ahwatukee, Gilbert and beyond, there is an At Home Fitness location near you.
The At Home Fitness consultants know how to help customers choose the right piece of exercise equipment based on budget, fitness needs, room size and many other factors.
The goal is always to create an exceptional in-store experience for each client based on their very specific needs.
Now, you'll know the answer next time you hear someone ask this question, "Where is the best place to buy fitness equipment in Arizona?" Tell them, "At Home Fitness is your source for specialty fitness superstores in Arizona."
Call At Home Fitness at 480-940-1022 or 888-940-1022 (Ext 2) to reach the Service and Repair Department or email Support@AtHomeFitness.com. Or, set up an appointment online at https://www.athomefitness.com/service-department/#service