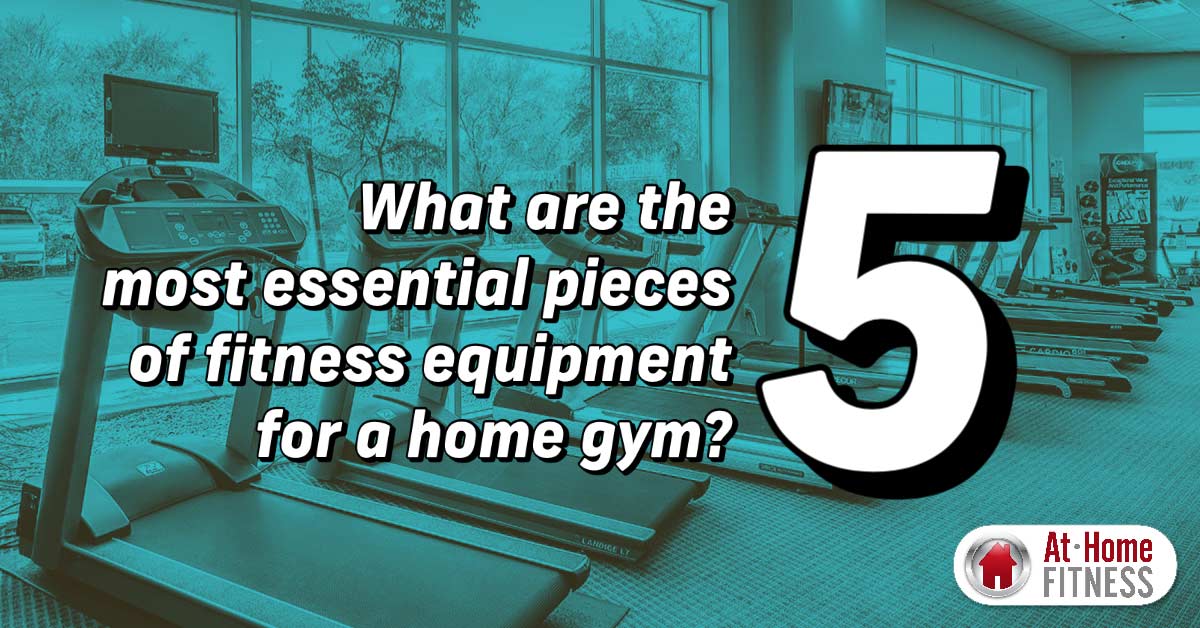 What are the five most essential pieces of fitness equipment for a home gym?
In recent years, there has been a big rise in the popularity of home gyms due to their convenience and accessibility. If you're thinking of creating a home gym, you may be wondering what essential fitness equipment to invest in.
The five most essential pieces of fitness equipment for a home gym in our opinion are dumbbells, resistance bands, a stability ball, treadmill and jump rope. Have that "Fantastic Five" and you're well on your way to better fitness and, of course, you can keep adding more and more to your home gym.
You can get great prices and selection on these items at At Home Fitness super stores in Arizona or online at athomefitness.com.
Dumbbells
Dumbbells are versatile and can be used for various exercises, including weight lifting, resistance training, and cardio. They come in different sizes and weights, making them perfect for any fitness level. Dumbbells are a great investment as they offer a wide range of exercises to target various muscle groups in the body. Plus, they are relatively inexpensive and require minimal space.
At Home Fitness already had an outstanding inventory of free weights for dumbbells, barbells, weight plates and benches. We know free weights have become more and more popular in recent years so we've upped our game!
Consider At Home Fitness as your one-stop shop for all of your free weight needs.
We offer an extensive selection of free weights, from dumbbells and barbells, to kettlebells and plates.
Resistance Bands
Resistance bands are another versatile piece of equipment that can help increase strength and flexibility. They are lightweight, easy to store, and perfect for those who are short on space. Resistance bands come in different resistance levels, allowing you to gradually increase the intensity of your workouts. They can be used for a range of exercises, including upper body, lower body, and core.
Stability Ball
A stability ball is a great addition to any home gym as it helps improve balance, stability, and core strength. It can be used for various exercises, including crunches, planks, and push-ups. Additionally, the stability ball can be used as a chair, which helps improve posture and relieve back pain.
Treadmill
If you enjoy running, a treadmill is a great investment for your home gym. It allows you to run at any time of the day, regardless of the weather outside. Treadmills come in various sizes and prices, making it easy to find one that fits your budget and space. Additionally, some treadmills come with features such as heart rate monitors, incline adjustments, and pre-programmed workouts.
At Home Fitness has Arizona's best selection and prices for top-rated Treadmills from brands such as 3G Cardio, BodyCraft, LifeFitness, StarTrac, Cybex, Inspire and more.
Jump Rope
A jump rope is an inexpensive piece of equipment that can provide an intense cardio workout. It can be used for interval training, circuit training, or as a warm-up before strength training. Additionally, jumping rope is a low-impact exercise that is easy on the joints.
At Home Fitness is proud to offer the following superstore locations:
At Home Fitness Ahwatukee Superstore – 14647 So. 50th St., Phoenix, AZ 85044. I-10 and Chandler Blvd., turn North on 50th St.
* At Home Fitness Gilbert Superstore – 2810 S. Market St., Gilbert, AZ 85295 (480-855-6044). It's located near Creative Leather and Costco.
The AHF-Gilbert store is a retail-sized location near Mesa, Apache Junction, Gold Canyon, Queen Creek, Chandler and Gilbert, to name a few.
* At Home Fitness Scottsdale – 6969 E. Shea Blvd, Scottsdale, AZ 85254 (480-951-6951). AHF-Scottsdale has a 7,000-square foot showroom and is on the corner of 70th and Shea.
At Home Fitness-Scottsdale is located near Fountain Hills, Cave Creek, Anthem and many other locations in the West Valley.
* For At Home Fitness Commercial Sales call 888-351-6951, while the Service Department can be reached at 480-940-1022 or email Support@AtHomeFitness.com.
In conclusion, investing in these five essential pieces of fitness equipment for your home gym can help you achieve your fitness goals.
Dumbbells, resistance bands, stability balls, treadmills, and jump ropes offer a wide range of exercises to target various muscle groups in the body. With these pieces of equipment, you can enjoy a challenging and effective workout in the comfort of your home.
Come see our incredible Fitness Equipment Showrooms today!