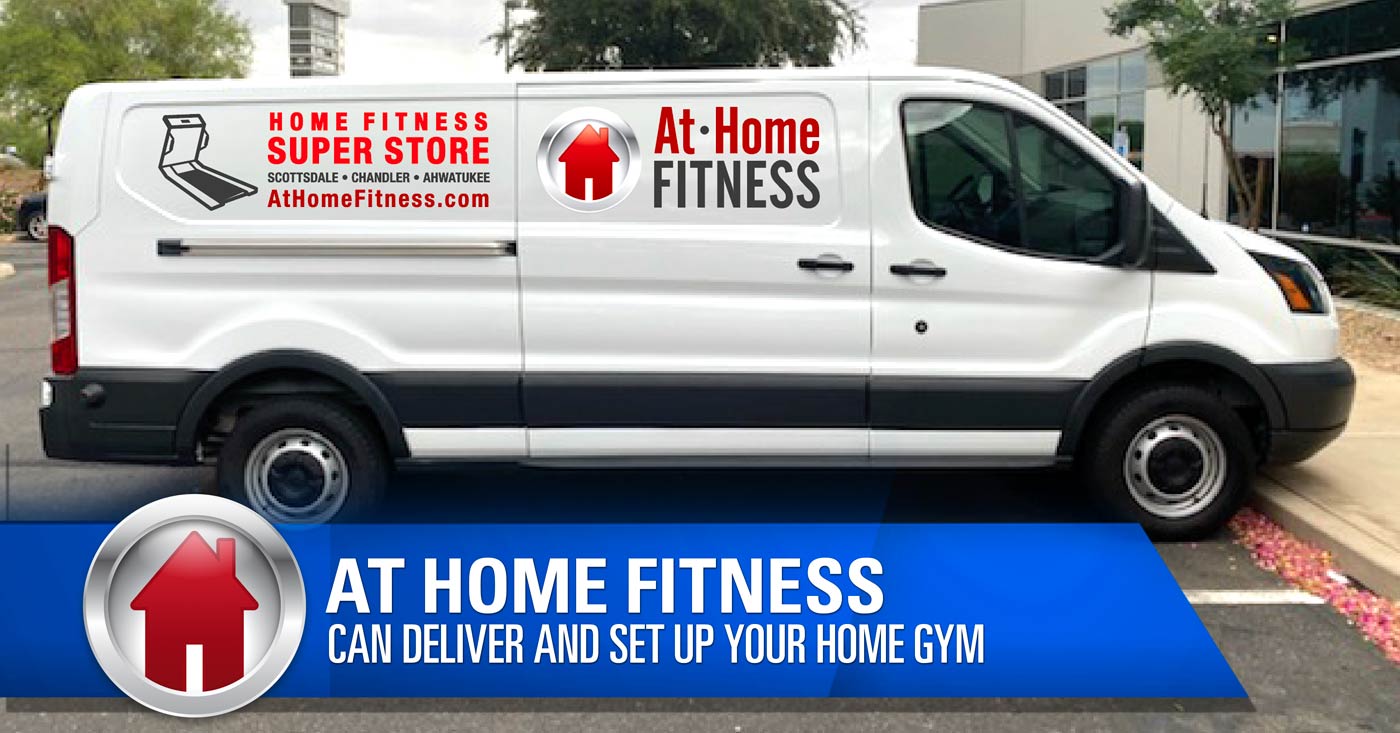 20 Mar

During this uncertain time, let At Home Fitness Superstore deliver and set up your home gym
Exercise with peace of mind in your home; AHF helps customers anywhere in the U.S.
By AARON DORKSEN — At Home Fitness Writer
During this uncertain time, it makes more sense than ever to exercise in the safety and comfort of your own home.
The coronavirus (COVID-19) has forced many states to health clubs, schools, restaurants, churches and more. And, who knows what the next couple months or beyond will bring?
According to a March 3 article in the New York Times, scientists are still figuring out how the virus exactly spreads, but have provided guidance on how it seems to be transmitted.
"A study of other coronaviruses found they remained on metal, glass and plastic for up to nine days," the NYT reported.
"Objects like handles and doorknobs are 'disproportionally affected by hands, and those are the surfaces most likely to have viruses for that reason," said Dr. David Thomas, a professor of medicine and director of the Division of Infectious Diseases at Johns Hopkins University School of Medicine.
Thomas stated that sweat cannot transmit the virus, but high-contact surfaces, such as barbells, can pose a problem.
Every day the list of businesses that have been shut down grows, including health clubs.
It just makes sense to exercise in your own home gym, where you control every factor ranging from who works out there, to the equipment and cleanliness.
The At Home Fitness Superstore Advantage
At Home Fitness Superstore is the biggest and best specialty fitness equipment chain in Arizona and also a leader in online sales nationwide.
The At Home Fitness Phoenix superstore, as well as At Home Fitness Scottsdale Superstore and At Home Fitness Gilbert Super Store are going to great lengths to help customers during the coronavirus pandemic.
"We would like to inform our customers that we are taking special precautions in-store, including extra cleaning and sanitizing of all equipment, door handles, counters, etc.," At Home Fitness reported on its website.  "If you are unable to visit our stores, we will be more than happy to help you select a piece of equipment over the phone, which we can deliver and install.
"All orders include a 30-day money back guarantee. We do our own deliveries and service and will take all necessary precautions when we enter your home."
With the recent closure of health clubs, yoga studios and gyms, there is now an overwhelming sense of urgency for people to have something to use in their home.  At Home Fitness is able to meet that demand and deliver and install exercise equipment within a 3 day period on in stock inventory.  
Anyone with questions about At Home Fitness products can call 1-800-940-1022 or message or visit: www.athomefitness.com for store locations
Buy a treadmill, elliptical machine, exercise bike, home gym, or other piece of exercise equipment from At Home Fitness Superstore and Arizona's fitness leader will always be there for you. They have a certified in-house service department, which services and repairs equipment in the stores, or on house calls.
Unlike other Arizona fitness retailers, At Home Fitness doesn't outsource its service orders.
The hand-picked At Home Fitness service team has many years of combined experience and they're ready to assist you.
The online reviews more than back up At Home Fitness' fantastic prices, quality and service.
Their service is unparalleled in Arizona and people can shop from them anywhere in the U.S. on athomefitness.com. Simply stated, At Home Fitness understands and cares about its customers.
If you have any questions before, during or after your buying experience, At Home Fitness will help you choose the perfect exercise equipment and keep it working smoothly for as long as possible.
Ahwatukee Fitness Equipment Superstore
14647 So. 50th St. located near Ahwatukee, Phoenix, Chandler, Tempe and it's the chain's closest store to Tucson.
Visit Ahwatukee
Gilbert Fitness Equipment Superstore
2810 S. Market St., located near Mesa, Apache Junction, Gold Canyon, Queen Creek, Chandler and Gilbert, to name a few.
Visit Gilbert
Scottsdale Fitness Equipment Superstore
6969 E. Shea Blvd. located near Scottsdale, Fountain Hills, Cave Creek, Anthem and many other locations in the West Valley.
Visit Scottsdale
At Home Fitness consultant Aaron Dorksen's blog deals with a variety of fitness topics, ranging from workout tips, motivational ideas and feature stories on how exercise impacts people's lives. Talk to your doctor before setting up a new fitness regimen. E-mail him with comments, questions or ideas for future blogs at aaron@athomefitness.com