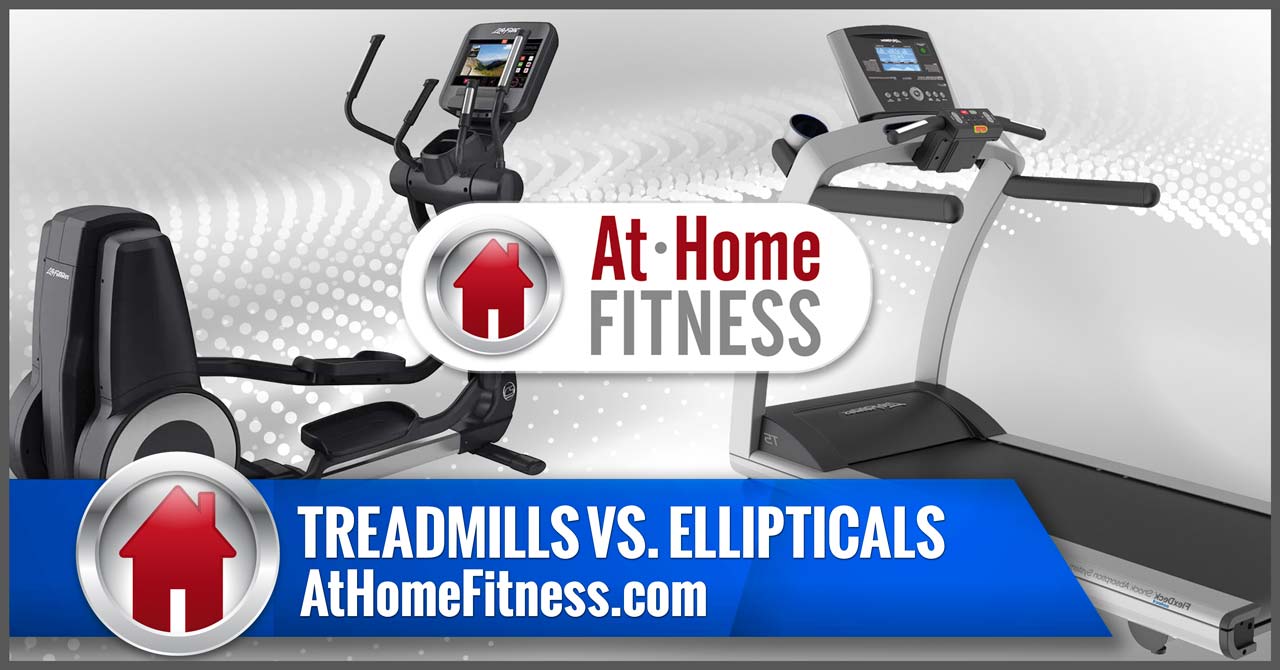 Treadmills vs. Ellipticals: Which is better for you?
The debate of treadmills versus ellipticals is a popular one.
No shocker here – the elliptical trainer and treadmill are two of the most adored workout machines for indoor exercises.
Both mimic a running or walking movement, with varying intensity levels to improve your cardiovascular fitness.
At Home Fitness has been Arizona's leader in specialty exercise equipment since soon after opening in 2004 because no one can match its combination of selection, prices, expertise and customer service.
North or South, East or West in Arizona, At Home Fitness is where to buy fitness equipment in Arizona.  They have the state's best selection, expertise and deals on specialty fitness equipment and highly experienced sales associates to help you.
Try before you buy a wide selection of equipment, including treadmills and ellipticals. You can also shop online at www.athomefitness.com.
Both treadmills and ellipticals offer great cardiovascular exercise and can help you reach your fitness goals, but which option is better for you?
To decide between the two, consider the following factors: Impact, Versatility, and Efficiency.
IMPACT
Treadmills are known for their high-impact workouts, because you're lifting your own body weight with each step.
This can be beneficial for certain types of exercise, such as running or strength training.
Ellipticals are low-impact machines. They give you an aerobic workout without jarring your joints. This makes them ideal for people who want to get a good workout without putting too much strain on their body.
VERSATILITY
Although treadmills typically offer more options for speed and incline, ellipticals provide a wider range of motion.
With an elliptical machine, you can move your legs forward or backwards, and even side to side. This adds variety to your workout and lets you target specific muscle groups.
Treadmills are great for running and walking, but they don't provide the same range of motion that an elliptical does.
EFFICIENCY
Ellipticals offer a more efficient workout – you can burn more calories in less time than with a treadmill.
This is because of the low-impact nature of the machine; you're not working against gravity as much, so your muscles don't have to work as hard. Treadmills can be great for interval training or running, but if you want a full-body workout in a shorter amount of time, an elliptical might be a better option.
When it comes to treadmills versus ellipticals, the choice is ultimately up to you. Consider your goals, fitness level, and any injuries or medical conditions that might affect your workout. With both machines offering great cardiovascular benefits, it's easy to find a machine that fits your needs and helps you reach your fitness goals.
SHOP AT HOME FITNESS
With At Home Fitness, you'll never have to worry about where to buy or sell used fitness equipment in Phoenix and it's surrounding cities such as Chandler, Mesa, Glendale, Scottsdale, Desert Ridge, Ahwatukee, Gilbert and beyond – we're always close by!
At Home Fitness is proud to offer the following home fitness superstore locations:
* At Home Fitness Ahwatukee Superstore – 14647 So. 50th St., Phoenix, AZ 85044 (480-940-1022.
* At Home Fitness Gilbert Superstore – 2810 S. Market St., Gilbert, AZ 85295 (480-855-6044).
* At Home Fitness Scottsdale – 6969 E. Shea Blvd, Scottsdale, AZ 85254 (480-951-6951).
* For At Home Fitness Commercial Sales call 888-351-6951, while the Service Department can be reached at 480-940-1022 or email Support@AtHomeFitness.com.
Come see our incredible Fitness Equipment Showrooms today!