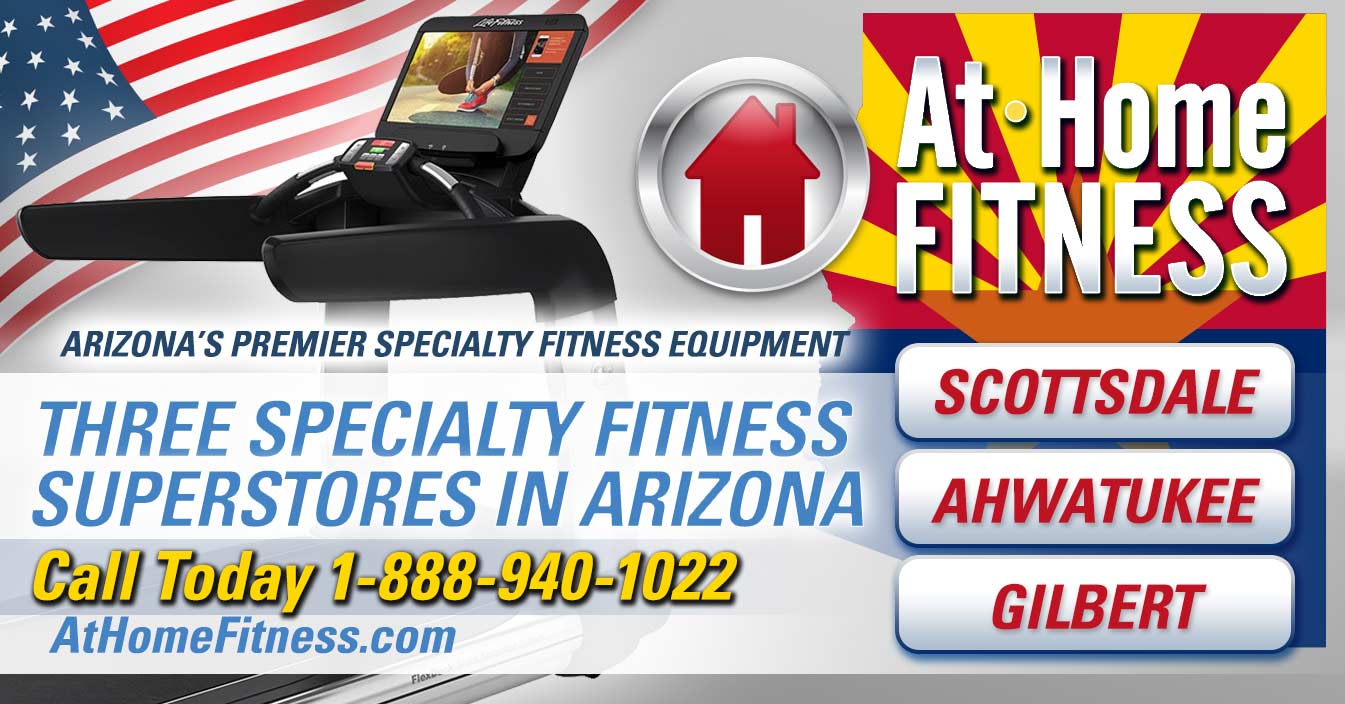 07 Apr

What are the advantages of setting up a home gym through At Home Fitness?
In recent years, the trend of setting up a home gym has become increasingly popular, and for good reason.
Having a home gym offers a wide range of benefits that can make a significant difference in your health, fitness, and overall wellbeing.
Today, we will discuss some of the top benefits of having a home gym and working with the Arizona-based At Home Fitness company.
Convenience
One of the most significant advantages of having a home gym is the convenience it provides. You don't have to worry about travelling to a gym or waiting for equipment to be available. You can exercise whenever you want, without having to worry about the opening and closing hours of the gym. You also don't have to deal with crowds or other gym-goers, which can be distracting or intimidating.
At Home Fitness makes it easy to find the right equipment at the right price. Shop our Arizona superstores or order online.
Trust the experts at At Home Fitness in Arizona to help you find the right gym equipment. Stop into one of the At Home Fitness superstores or shop online at www.athomefitness.com.
At Home Fitness superstores are located at the following locations:
Ahwatukee- 14647 So. 50th St., Phoenix, AZ 85044 (480-940-1022);
Gilbert – 2810 S. Market St., Gilbert, AZ 85295 (480-855-6044) and;
Scottsdale – 6969 E. Shea Blvd, Scottsdale, AZ 85254 (480-951-6951).
The At Home Fitness team is here to help you no matter where you are in the country. Visit one of our three locations across Arizona and chat with one of our highly trained sales associates, or shop online at www.athomefitness.com for your convenience!
For any questions or concerns, contact us toll free on 1-888-940-1022 or email support@athomefitness.com – we're always happy to answer any queries you may have!
There are countless choices for fitness equipment in stores and online, making it hard to know what to put in your home gym. At Home Fitness sales associates will help guide you every step of the way.
Cost-effective
Setting up a home gym can be a significant investment initially, but in the long run, it can save you a lot of money. Gym memberships, especially at high-end gyms, can be quite expensive, and the costs can add up quickly. Additionally, you can save on transportation costs and the time spent travelling to and from the gym. Having a home gym also allows you to avoid the temptation of buying expensive workout gear and equipment that you may not use regularly.
Since 2004, At Home Fitness has been providing quality home fitness solutions to customers under the direction of two experienced co-owners. With decades of experience in this industry, they were determined to prioritize customer satisfaction by offering unbeatable selection, prices and service.
At Home Fitness sells award-winning brands such as 3G Cardio, Bladez Fitness, Body Solid, Bodycraft, Bodyguard, BH Fitness, Cybex, Dr. Hoys, ElliptiGO, GoFit, Inspire Fitness; Landice, Life Fitness, LifeCore Fitness, Nexersys, Nautilus, Octane Fitness, Power Plate, PowerBlock, Spri, Stairmaster, Torque Fitness, VectraFitness.
At Home Fitness in Arizona is your one-stop fitness shop, offering the newest and greatest models as well as certified used fitness equipment at our three superstores located conveniently across Scottsdale, Ahwatukee and Gilbert.
Customization
A home gym provides you with complete control over the environment, equipment, and workout routine. You can choose the equipment that best suits your needs, preferences, and fitness goals. Additionally, you can tailor your workout to your schedule and specific needs. You can also create a personalized workout space that inspires and motivates you to exercise regularly.
Privacy
Many people find it challenging to exercise in a public gym, as they may feel self-conscious or uncomfortable exercising in front of others. Having a home gym provides complete privacy, allowing you to exercise without worrying about others watching you. This can increase your comfort level and confidence while exercising.
Improved health and fitness
Having a home gym can significantly improve your health and fitness levels. By having access to workout equipment and a dedicated workout space, you can exercise more regularly and effectively. Regular exercise has been shown to reduce the risk of various health conditions such as heart disease, stroke, and diabetes. It can also help you lose weight, build muscle, and improve your overall physical fitness.
In conclusion, having a home gym offers numerous benefits, including convenience, cost-effectiveness, customization, privacy, and improved health and fitness. Whether you're a fitness enthusiast or a beginner, setting up a home gym can be an excellent investment for your physical and mental wellbeing. With the right equipment and dedication, you can achieve your fitness goals and lead a healthier, happier life.
Come see our incredible Fitness Equipment Showrooms today!