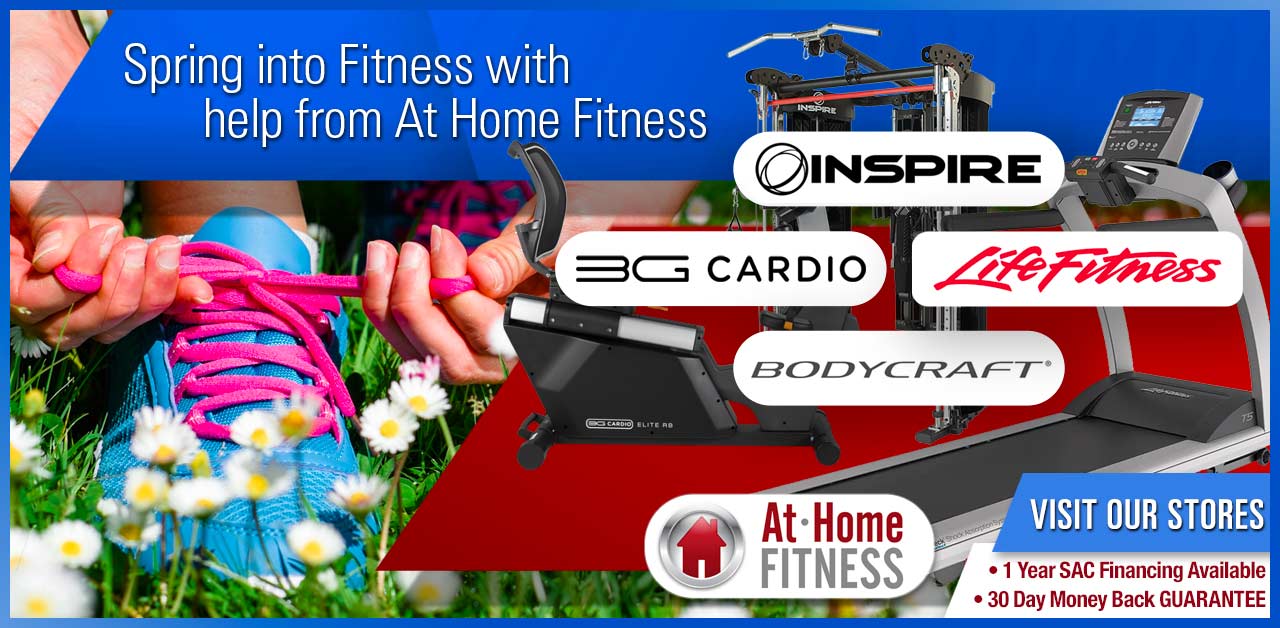 07 Apr

At Home Fitness superstores in Arizona can help you spring into fitness
Spring is the perfect time to renew your commitment to fitness and start working toward your health goals.
As the weather warms up and the days get longer, there are many opportunities to get outside and get moving.
The At Home Fitness superstores in Arizona are here to help you get fit.
For nearly two decades, At Home Fitness – Arizona's premier provider of specialty fitness equipment – has been committed to providing its customers with the highest quality selection and unbeatable expertise on these products. Whether you're shopping for a treadmill, strength-training machines or any other kind of exercise equipment, we have unbeatable deals sure to meet your needs!
At Home Fitness is your one-stop shop for unbeatable deals on exercise equipment in Arizona! Choose from a wide range of dumbbells and other free weights, treadmills, stationary bikes, ellipticals home gyms, vibration training machines and more – all conveniently located at any of our superstores or accessible directly through www.athomefitness.com.
At Home Fitness is the ideal destination for people of any age and fitness level seeking top-of-the-line exercise equipment.
Come to At Home Fitness, where we buy, sell, trade and even accept equipment on consignment. Our experts are here to assist you by providing an honest estimate of your fitness equipment's fair-market value – all it takes is a call or email!
Reach out at support@athomefitness.com for more information today.
At Home Fitness takes exceptional pride in our service department, as we thoroughly inspect each and every piece of used equipment before offering it to customers. We guarantee top quality while no other fitness retailers in Arizona can match the expertise provided by our team. Not only that, but we are also capable of fixing or tuning-up your fitness devices! Come experience the gold standard in customer satisfaction at At Home Fitness today!
At AHF, our co-owners and sales associates are continuously dedicating their time to providing customers with the superior selection, prices, expertise, and customer service in the market. Every day they strive to make sure that all of our clients have a wonderful experience when purchasing from us.
At our store, customers are treated with the same respect and care as one of our own. We strive to provide honest advice, excellent prices, top-notch products and outstanding customer service – something that has become expected from us.
At Home Fitness is proud to also offer the following superstore locations:
* At Home Fitness Ahwatukee – 14647 So. 50th St., Phoenix, AZ 85044. Call 480-940-1022 for more information. This store features a must-see 15,000-square foot showroom. The Ahwatukee store is located on the I-10 freeway between Chandler Blvd. and Ray Rd.
At Home Fitness Ahwatukee is conveniently located near Phoenix, Chandler, Tempe and it's the chain's closest store to Tucson.
* At Home Fitness Gilbert Superstore – 2810 S. Market St., Gilbert, AZ 85295 (480-855-6044). It's located near Creative Leather and Costco.
The AHF-Gilbert store is a retail-sized location near Mesa, Apache Junction, Gold Canyon, Queen Creek, Chandler and Gilbert, to name a few.
* At Home Fitness Scottsdale – 6969 E. Shea Blvd, Scottsdale, AZ 85254 (480-951-6951). AHF-Scottsdale has a 7,000-square foot showroom and is on the corner of 70th and Shea.
At Home Fitness-Scottsdale is located near Fountain Hills, Cave Creek, Anthem and many other locations in the West Valley.
* For At Home Fitness Commercial Sales call 888-351-6951, while the Service Department can be reached at 480-940-1022 or email Support@AtHomeFitness.com.
SPRING FITNESS TIPS
Here are some tips to help you spring into fitness:
Set realistic goals: Setting realistic fitness goals is key to staying motivated and seeing progress. Be specific about what you want to achieve and create a plan to help you get there. Whether your goal is to lose weight, run a 5K, or improve your strength, setting achievable milestones along the way can help you stay on track.
Start slow: If you're just starting out or getting back into exercise after a break, it's important to start slow and gradually increase your intensity. Trying to do too much too soon can lead to burnout or injury. Start with shorter workouts and low-impact activities like walking, cycling, or swimming, and gradually build up to more intense workouts.
Find an accountability partner: Working out with a friend or family member can help you stay motivated and on track with your fitness goals. Find someone who shares your fitness goals and schedule regular workouts together. You can encourage each other, share tips and advice, and hold each other accountable.
Mix it up: Doing the same workout every day can get boring and make it harder to stay motivated. Mix up your routine by trying new activities or exercises. Take a dance class, go for a hike, or try a new strength-training workout. Variety can keep your workouts fresh and interesting.
Get outside: Spring is the perfect time to take your workout outdoors. Whether you go for a walk, run, bike ride, or hike, getting outside can help you feel more energized and motivated. Plus, the fresh air and sunshine can have a positive impact on your mood and overall well-being.
Set up a home gym: Contact the pros at At Home Fitness to set up a home gym, or improve your current workout room. Work out when and how you want in the comfort of your own space.
By following these tips, you can spring into fitness and make progress toward your health goals. Remember to be patient with yourself, celebrate your successes, and keep moving forward.
Come see our incredible Fitness Equipment Showrooms today!